Articles
2017 YMSA Championship Round 2
Details

Please Change To Club Name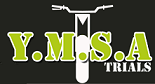 A warm and sunny spring day greeted the riders for round 2 of the 2017 YMSA trials championship last Sunday at Bracken rocks which was its usual slippery self after overnight rain, Barry Burton and his crew set out 12 sections which were spot on for the soggy ground conditions.Some of the uk's top lady riders added to an already high quality entry which made for an interesting and highly competitive event.
In A class Oliver Smith rode his gas gas to an impressive win,but even he couldn't manage to get up the huge rock step in section 3,Ronnie day followed in a distant second place,his score spoiled by a big crash and resulting painful back.
B class was won by Charlie Smith making his first appearance at a YMSA championship event, the only blot on his score card was an unlucky 5 on section 12's greasy rock step on the first lap with his single dab effort on the final lap being one of the best efforts of the day. Mitch Brightmore had to settle for second place with Jack Dance completing the podium positions. These three were well ahead of the rest of the field.
C class was dominated by Ash Brightmore who once again was the best rider on the white route which included both youth and adult novice, the top three being completed by the battling Alfie Ray Turner and Max Agar.
D class saw a new winner with Summer Brooksbank taking the win at her first YMSA event. Championship leader Max Dance was second and Leon Currie third. It was definitely a tough day with the small wheel bikes struggling for grip in the slippery conditions.
Youth Novice saw a close battle eventually being won by another newcomer, Olivia Brooksbank who followed up on her success in the ladies national the week before, her victory being another for the girls in this competitive class. Max Chadwick was only six points behind in runner up spot and Libby Tett claimed another podium spot adding to her good results at previous events.
The experts,riding the same route as Youth A was won by Sam Yeomans who, like Oliver Smith, could not get up the step in section three, but his scores on the remaining sections gave him a clear win. He was followed home by Joe Collins in second place.
The intermediate class riding the yellow route saw a good ride by winner Dan Greeves losing only 22. This was the best score of the day on that route. Runner-up spot was taken by Matt Dixon who got the nod on the tie break over Gus Oblein who had a poor first lap but battled back into contention with much better laps 2 and 3.
Adult novice was won by Chris Brightmore who reckoned he'd had an awful ride, probably because he dropped twice as many as his son ! Nevertheless his score of 26 easily won the class with Martin Greeves taking second just ahead of Carl Dickinson who looked to be getting back to his best after a long lay off.
The very popular green route saw another win for Ash Hallows on his very nice twinshock Honda with Ben Burton and Tim Blackmore completing the top three.
Round 3 will be at the fantastic foxholes venue with it's waterfalls and rock filled stream.april 2nd is the date,don't miss out on this event as this venue is very rarely used.
Results
A CLASS – OLIVER SMITH GAS GAS 56 MARKS LOST
RONNIE DAY GAS GAS 136
B CLASS – CHARLIE SMITH BETA 27
MITCH BRIGHTMORE GAS GAS 43
JACK DANCE GAS GAS 58
C CLASS – ASH BRIGHTMORE BETA 12
ALFIE RAY TURNER BETA 165
MAX AGAR BETA 180
D CLASS – SUMMER BROOKSBANK OSET 60
MAX DANCE BETA 96
LEON CURRIE OSET 134
YOUTH NOV – OLIVIA BROOKSBANK GAS GAS 82
MAX CHADWICK BETA 88
LIBBY TETT BETA 102
EXPERT - SAM YEOMANS GAS GAS 39
JOE COLLINS GAS GAS 86
INTER - DAN GREEVES HONDA 22
MATT DIXON BETA 36
GUS OBLEIN SHERCO 36
NOVICE - CHRIS BRIGHTMORE HONDA 26
MARTIN GREEVES GAS GAS 36
CARL DICKINSON GAS GAS 61
GREEN - ASH HALLOWS HONDA 11
BEN BURTON BETA 16
TIM BLACKMORE FANTIC 20