Navigation
Random Bike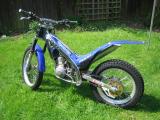 16 February 2009 - 06:12 PM

Yamaha TY175 (1979)
Bike Owner
yamty175
, 12 November 2010 - 07:02 AM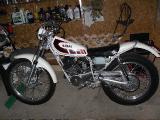 Bike Owner:

yamty175

Date Added:

12 November 2010 - 07:02 AM

Date Updated:

23 January 2011 - 12:15 AM

Colour:

White/black

Views:

1,811

Price:

--
No description provided.
1 Previous Comment(s)

( Add Comment )
yamty175


22 January 2011 - 10:09 PM

This is my 'minter', currently used for trail riding/ easy stuff. I recently put some Betor shox on it but am going to switch them out with the oem shox on my competition machine. Recently put a NOS speedo on which shows 2 miles, but it probably has around 500 miles on it.
356

Owners

524

Bikes

226

Modifications

744

Images

676,379

Views

239

Comments
Viewing Garage
Yamaha TY175 (1979)