SWM TL.NW Guanaco 320 (1980)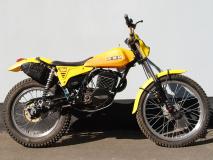 Bike Owner:

PSchrauber

Date Added:

06 May 2012 - 12:34 PM

Date Updated:

07 April 2013 - 10:51 PM

Colour:

yellow - black

Views:

3,027

Price:

--
Bike's origin is from the Alpes in Italy, self imported and road registrated, in very nice overall condition.
Now completely overhauled: engine and undercarriage all rubber parts, Betor forks with air cartridge and Falcons rear. Also the use force of the clutch improved.
The bike rides like a dream, much better engine response now as everything is fresh again very low noise too.
The patina is great so I haven't applied any paint to the bike or refurbished the plastics, (one exception the fork legs of the Betor fork which is a rebuild of two used forks needed new hardchrome and the lower tubes got new paint there where to many layers / no paint when I found the used parts ...)
436

Owners

689

Bikes

242

Modifications

932

Images

1,010,835

Views

258

Comments
Viewing Garage

SWM TL.NW Guanaco 320 (1980)