Bultaco Sherpa 250 Sammy Miller Frame
Started by
zisko62
,
Jun 11 2012 02:53 PM
Posted 11 June 2012 - 02:53 PM
hi everywhere, what do you think about this bike, is it really better than the standard one?
---
---
Ads By Google
Posted 11 June 2012 - 09:02 PM
Looks like the shocks, footrests and head angle have been modified

Better? It's subjective and impossible to answer without riding back to back with a well set up standard bike.

Modernising older bikes doesn't always work well. My 340 has a steepened head angle and there is a trade off. It steers quicker and is easier to manage in nadgery stuff but it's lost its stability and is very twitchy.

---
Posted 11 June 2012 - 09:19 PM
It depends what you are used too, I don't believe a bike at an evolution level of the end 60's to beginnig 70's can get improved to be a "twinshock killer".

When I ride a Bultaco I ride a Bultaco not a Fantic. These bikes have some "personality" with some benefits and some drawbacks. You might reduce some of the drawbacks but this bike will never behave like a Fantic 240.

I think the biggest advantage is the bash plate, no impressed lower frame tubes which is a commen
issue, this is an advantage the rest is well ... a Bultaco.

---
Posted 12 June 2012 - 06:30 AM
The Miller frame has to be considered in the context of the time it was introduced. Sammy Miller designed the frame in the late 60's when the Model 49 was in production. Also Sammy was a Bultaco works rider and more or less unbeatable. Much of the Miller frame and the slimline tank was incorperated into the Model 80 with the exception of the bash plate, a mod that would not appear on the Bultaco for another 9 years. Sammy also had the benifit of much better quality and lighter steel tubing than was available in Franco's Spain. I have ridden a Model 49,a model 80 and and currently ride an un-modified 1970 Miller framed Bultaco. Can I tell the difference? Its better than the Model 49 but the Model 80, not really. The frame was used with much sucess in the bikes in Sammy Millers team and Sammy himself as he withdrew from the Bultaco works ride.

Having said all that I sought out a Miller frame for my Bultaco out of respect for a rider, Sammy Miller who I remember being way ahead of the game in 1970. The frame is what should have been fitted to the model 80 and therefore makes it interesting and desirable. Sammy was also a businessman and who can deny him the opportunity to use his hard earned position to promote some 'products' - a commonplace situation these days.

I'm not sure changing the head angle and shock position is adding anything to the frame. It is not going to handle like a modern bike - its way to heavy for a start and built primararily for sections that don't exist any more. Its a design looking back to the era of the heavyweights rather than to the later, lighter twinshocks and mono's.

Tim

---
Posted 14 June 2012 - 09:51 AM
if at first you have a five, try try and try again, then go home with a big score.
---
Posted 14 June 2012 - 04:11 PM
The frame in Blackcats article is a later version than that in Zisco's or mine - and was a bit of a handful for the reasons stated!
The earlier frames had a single pillar under the seat (picture below) much like the later model 49 and model 80 and was very similar to model 80.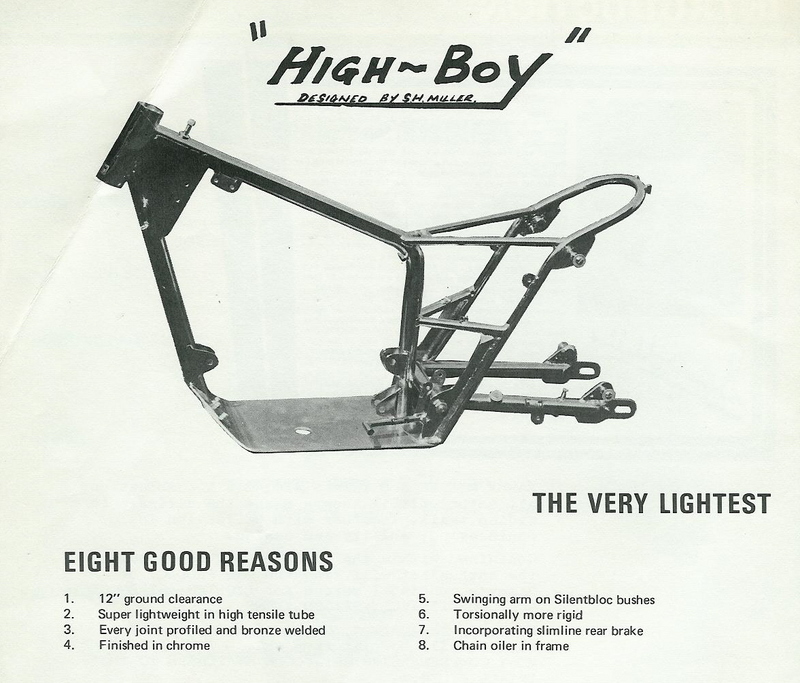 Frame had a tendancy to break at the base of the headstock gusset
Tim
---
---
0 user(s) are reading this topic
0 members, 0 guests, 0 anonymous users