2012 International Dirt Bike Show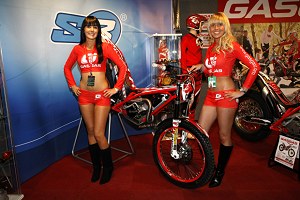 Less than a month to go now and things are really firing up for this year's celebration of all things off-road at the International Dirt Bike Show. The latest news is that the Show really will encompass all facets of the industry it serves and promotes, as the major trials manufacturers have all now committed to displaying their wares at Stoneleigh Park from 1st – 4th November.
Fresh-to-the-UK Jotagas, under the direction of multi-British trials champion Steve Saunders, confirmed its attendance at the Show some weeks ago. Now the new kid on the block is joined by long-term show supporter Gas Gas, and both Spanish marques will be a part of the biggest showing of trials machines at the International Dirt Bike Show for a good few years.
The Trials Zone in hall three is set to be a hive of activity, with the latest and best 2013 machinery from the world of trials all under one roof for the first time. Malcolm Rathmell Sport will show the Sherco ST 2013, with its new-look and improved quality; John Lampkin Imports will display its full range of Beta two and four-stroke trials bikes, as well as its two and four-stroke enduro machines; on the Gas Gas stand you'll find the latest 2013 Pro trials and EC enduro ranges; Birkett Motorsport will exhibit the latest from Ossa and Scorpa, and, as previously outlined, Jotagas will have the new JT trials bike and hopefully the world launch of its enduro model.
Meanwhile, over in hall two, trials enthusiasts will find Pidcock Montesa, and electrical trials bike innovator OSET bikes will use the International Dirt Bike Show as the launch pad for the production version of its all-new 20.0 model, a machine that has been three years in the making.
"This is a thrilling development for our Show," exclaimed organiser Joanne Watson. "We truly hope it will make a visit to Stoneleigh Park this November a must-do for the UK's many, many trials competitors and fans.
With so much to do and see, a visit to the UK's biggest and best off-road Show is a must for dirt bike fans and, with the return of half-price Thursday, it needn't stretch the family budget too far. Advance tickets, offering substantial discounts, are now on sale from The Ticket Factory on 0844 581 0735, or via the box office link on www.dirtbikeshow.co.uk
Photo courtesy of Ray Archer