Emma Bristow Storms Women's Opener
Details

Trials Central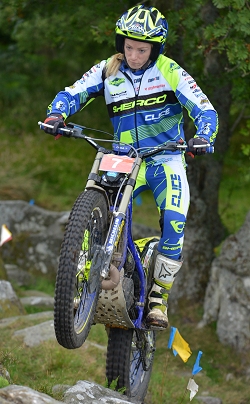 It was southward bound for the female Trials fraternity in the UK this weekend as the Acklams Beta sponsored British Women's and Girls Trials Championship got underway with the North Berks MCC hosting the opening round at their Seymours Arena venue. Thirty-eight competitors took part across the eight different classes on offer.
In the main Championship class it was, perhaps unsurprisingly defending British and World Trial Champion, Emma Bristow - MRS Sherco who dominated the event, dropping just a single dab over the three laps of twelve sections to give her a convincing victory over second placed Jess Bown - Birkett BVM Scorpa. Louise Alford - JST Cloburn Gas Gas completed the podium line-up after prevailing in a most-cleans tie-break with Nikita Smith - JST Cloburn Gas Gas.
With just two entrants in the Girls A Class, it was Alice Minta - Beta UK, last year's B Class Championship winner, who came out on top by a thirty-three mark margin over Ella Doherty - Beta.
Competition was a bit closer in the the Ladies Intermediate Class with Catherine Alford - Gas Gas taking home the spoils after an eleven mark victory over Jennifer Stephen - Gas Gas with Chloe Baker - Gas Gas finishing third.
There were, again only two entrants in the Girls A Intermediate Class where Jazz Hammond - Sherco took top spot over Izzy Watmore - Beta.
The Girls B Class saw Olivia Brooksbank - Gas Gas take a convincing win by a forty-six point margin over second placed Elizabeth Tett - Beta with Sarah Bell - Beta a further nine marks behind in third.
In the Girls C Class the scoring was somewhat lower with Sophie Bailey - Beta coming out winner after riding clean through twenty-two of the thirty-six sections. Emily Copp - Gas Gas took the runner-up spot with Kira Serano-Jones riding a late clean on the penultimate section to secure herself the remaining podium spot.
Also on offer were two non-Championship classes where, in the Ladies Class, Chloe Cross - Gas Gas took the honours over Jo Pope - Sherco with Sharon Youngman completing the top three. The girls non-Championship Class saw Amy Clarke - Gas Gas end the day on top over second placed Eleanor Smith - Oset.
The Championship now takes a short break before moving on to the South Shropshire MC hosted round on March 26th.
pdf Download Full Results (399 KB)