Manx Two Day Trial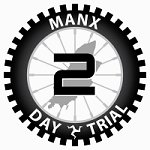 At the end of two days of tough competition it was young, local Gas Gas rider Josh Brain who took overall honours in this year's Manx National Two Day Trial. Following the action on Saturday, Brain found himself in second place behind Ricky Wiggins (300 RCM JST Gas Gas), but managed to handle the pressure and stay consistent throughout the Sunday route to take his first National win, and become only the second Manxman after Steve Colley to win his home National.
Ricky Wiggins maintained his lead right up to the middle of Sunday afternoon, but some stray marks proved decisive and dropped him to second position, albeit only 1 mark behind the winner. JST Gas Gas team mate and twice previous winner Dan Thorpe took the final step on the podium seven marks behind Wiggins.
Ben Wibberley (300 Inta Gas Gas) took fourth place, with newcomer James Graham (300 Inta Gas Gas) finishing fifth making it a Gas Gas clean sweep of the top five positions.
In the solo clubman class it was overnight leader Steve Swanson who maintained his lead to take victory in the ultra competitive class. Swanson got through the weekend losing 23 marks and finished seven in front of Darren Wasley, with Michael Clarke a further mark behind in third. Leading local rider was Wayne Wardell in sixth after dropping from an overnight podium position of third.
The Golden Jubilee sidecar event was won in fine style by father and son pairing, Robin and Sam Luscombe. Completing the weekend for a miserly loss of only seven marks, the most successful sidecar driver of all time further wrote his name indelibly in the history books of the biggest sidecar trial around.
Leading by only three marks after the first day, their lead increased significantly on Sunday to register a third consecutive victory, Robins 17th and Sam's 3rd.
The conditions on Sunday were a complete contrast to those experienced on Saturday, with lots of sunshine and warm temperatures banishing the memories of torrential rain the previous day.
Reigning Isle of Man solo trials champion, Nigel Crellin switched to sidecars for this event, and it proved a successful switch as he took a brilliant second place with the very experienced Chris Molyneux in the chair. Riding a 300 Knight Gas Gas they were ten marks clear of another father and son combination, Rupert and Chris Kimber. MRS Sherco crew Robin and Gill Morewood were fourth, with Adrian Smith and Aaron Smith fifth, and Gary Flowers and Antony Smith completing the top six.
The winner of the first sidecar Manx Two Day in 1962, Ron Langston was in attendance to join in the Golden Jubilee celebrations and reminisce with many of the old faces from the sidecar world. Around 200 people gathered at the end of the trial for a celebration buffet, where Derry Kissack was presented with the Committee award in recognition of the significant contribution he made to the organisation of the Golden Jubilee celebrations and the fantastic book he put together to mark the occasion.