Lampkin & Sheppard On Prime Time TV
Details

Dougie Lampkin/Jack Sheppard Press Services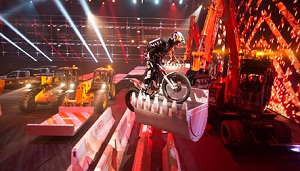 This Saturday evening, 8th September, will see Dougie Lampkin - Gas Gas and Jack Sheppard - Beta take to our TV screens as they take part in ITV's primetime show Red or Black, as hosted by Ant and Dec. Lampkin teamed up with Sheppard to test their skills over a specially designed challenge on which the contestants would have to bet on the outcome. Filmed earlier this year, viewers will have to watch Saturday evening's ITV1 show at 7.25pm to see which rider came out on top.

With ITV having initially made contact with Red Bull HQ in London, the production team was soon pointed in Lampkin's direction when the nature of the challenge was first described. Dougie's father Martin, with his vast course building experience and knowledge was then drafted in to create a suitable test for the two riders. The resulting course would include two Navara pick-ups thanks to the kind support of Nissan.

After a series of weeks, further meetings and site visits, Dougie and Martin then attended the first show test where the course was brought to life at a secret location and was ridden for initial evaluation. Thanks to the close collaboration of Martin and the production team, the course only needed a few minor tweaks before Sheppard took over the final testing process a few weeks later at the pre-show rehearsal, this time in the actual studio.

With the show filmed in front of a live studio audience and the serious nature of what was at stake for the contestants, Dougie and Jack only had one attempt to get it right as the cameras rolled for real this time. Judging by the crowds reaction and the production team's post show comments, this was one of the best challenges the show has witnessed. This is the second series of Red or Black hosted by Britain's favourite TV duo Ant and Dec.

Commenting on this prestigious opportunity Dougie said. "First of all I need to thank Red Bull for making this happen, like they have done so many times throughout my career. Without them it is clear that a lot less doors would have been open for me."

"It was great to be invited to be a part of such a big show and one that is going to be seen by millions of people this Saturday night." Lampkin continued. "Being in the studio and seeing what happens behind the scenes was also a great experience."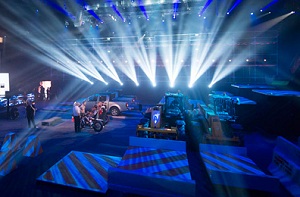 "The course turned out to be quite challenging and really tested both Jack and myself and made for a really good contest. As for the winner... well you will have to watch on Saturday night to see who that is."
Young Jack Sheppard added "It was nice to be asked to be part of this project, especially when you realise just how big the show is. The size of the studio and set was really impressive and quite different to how it appears on TV."

"It was good to have the chance to do the rehearsal as at least that gave me an idea of what to expect on the day." Sheppard went on to say. "Although I have ridden in front of large crowds at Top Gear Live and at World Trial events, this situation seemed a lot more tense, as you knew you only had one chance to get it right."