2012 ACU British Trials Championship Round 6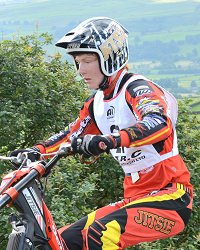 Jitsie factory Beta rider Jack Sheppard rounded off his brief involvement in the British Trials Championship with a fighting fourth place at the final round of the series held in Wales. In only his second outing in this year's domestic championship Jack improved throughout the day to snatch fourth spot much due to a strong closing lap.

In contrast Sheppard struggled to get to grips with the slippery conditions during the initial part of the trial, with this being the first time that he had encountered such sections since switching to the larger capacity machine earlier this year. The wring gear selection proved costly for the teenager from Suffolk as he made heavy work of the opening lap.

Jack's first lap total of twenty three marks including a string of three failures towards the end of the lap put him outside the top ten as the punch cards were changed ready for lap two. The switch of cards marked a change in fortunes for the nineteen year old from Ipswich as he greatly reduced his score on his second visit to the slippery hazards.

Just two fives and a single dab saw Sheppard post a second lap total of eleven marks, which was less than half of his opening lap tally. Now fully at home on his factory Beta 300, Sheppard put the power to good use as he delivered an almost perfect closing performance to steal fourth position come the finish.

Only a single five in section ten was to spoil Jack's otherwise clean lap on his third tour. This was sufficient for Sheppard to beat Sam Haslam by a single mark when the final scores were calculated. Happy with his recovery, but not with his initial showing Sheppard explained how he felt his day had gone.

"Things certainly didn't go well on the first lap, I really struggled to understand how to ride some of the sections. Too many times I was in the wrong gear, until I got my head round that I was no longer riding a 125. By watching some of the other guys I also learned what I needed to do."

"Thankfully I managed to put that into practice on the second lap and then went even better on the final lap. Section ten proved to be my bogey hazard, but it was a case of being up it or not and on all three laps I wasn't up it. My aim was to be on the podium again, so I am a little disappointed, though in the end fourth was a good result taking everything into consideration."