Gas Gas Weekend Round-up
Firstly we had our annual GGUK test day on Saturday at the superb Tong venue near Leeds.
The weather was kind and I hope all the test riders enjoyed themselves. A big thank you to all concerned, especially our GGUK staff. Thanks also to Michael Brown and other JST GGUK team riders for attending and showing what the gassers can do. Thanks also to the supporting GG dealers that came.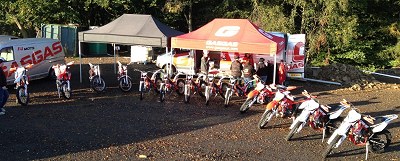 On Sunday was the last round of the Youth A&B British Trials Championship organised by the Mansfield Maun Motorcycle club at the infamous Bracken Rocks venue.
Newly crowned A Class Champion, GG rider Jack Price won again to finish the series off in style.
JST GG rider Dec Bullock was on the podium in 3rd and has finished 4th in the championship. His brother Brad was 5th on the day and also 5th in the Championship.
JST GG rider Jack Stones was 6th and finished 7th in the Championship.
Kelcoat GG rider Sam Yeomans was 3rd in the B Class having his best BTC ride of the year. Sam has finished 5th in the Championship.
Regards
Shirty