Bumpy Trials Club Championship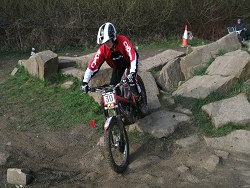 The final round of the Bumpy Trials Club Championship was held last Saturday afternoon at their lovely little venue at Howden Clough near Leeds.
Yorkshire ACU President and Bumpy Trials Training manager, Julian Ford, laid out the usual 3 courses of 8 sections ridden over 5 laps; the hard course living up to it's name, took plenty of marks from the Championship contenders. The Clubman course was set out just right for the likes of young Charlie Mosley who continues to ride better and better with a very creditable second place, as well as the older chaps; Bob Moore riding his Gas Gas for a change and PJ1 oil king, Richard Thorpe who won the class on his superb James. The easy route was very well attended and enjoyed by all the riders, Louis Wassell competing for the first time on his new 125 Gas Gas doing very well and the electric expert Henry Stephenson threading silently through the flags on his Oset.

Returning to trials riding after a very long break was local rider Simon Hirst, who won the hard course with some very stylish riding watched with pride by his son who is about to take up the sport. Nathan Major came in second ten marks adrift with Jordan Ashington in third place.
Sections 1 and 5 were the strongest tests, the first having plenty of mud and No 5 plenty of rocks, Mr Hirst certainly showing the young boys the way over the tight tricky slabs with excellent no-stop performances only dropping a total of 5 on this test. If the riders and bikes had managed to keep fairly clean so far, they were in for a shock at Section 7, observed by the Clerk of the Course, straight after the start flags it dropped into a deep muddy puddle which needed good speed then up very slippery ground and twisted through trees to end. Plenty of single colour trials pants and boots after that one!
The weather stayed sunny and warm throughout the day which attracted many spectators and family to watch the riders. The final Championship positions will be published on the Bumpy website along with details of the Prize Presentation and Bonfire Party Night, which is open to all with a pie and peas supper and firework display. See you all soon.
Hard Route: S Hirst (Sherco) 42, N Major (GasGas) 62, J Ashington (GasGas) 85
Clubman Route: R Thorpe (James) 18, C Mosley (Beta) 32, R Moore (GasGas) 46
Easy Route: L Bricklebank (GasGas) 21, H Stephenson (Oset) 23, M Crick (Sherco) 28