Lakes Two Day Trial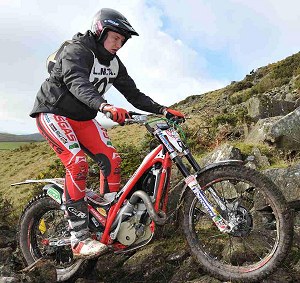 Team JST GGUK riders fill the podium at the Lakes 2 Day Trial !
Alexz Wigg (JSTGGUK) had his best performance of the year easily winning the event from his team mate No.1 JSTGGUK rider Michael Brown.
Alexz and Michael shared the lead after day one losing 12 marks each with GG Team mate Sam Haslam five marks adrift in 3rd. These three were along way ahead of the rest overnight. On Sunday morning Alexz and Michael continued to fight it out with Wiggy losing only one mark on his first card to Michael's two marks lost. In the afternoon Michael had two fives for two 'stops' in this no-stop event. This is where Alexz was impressive with NO marks lost to win the event with ease. Sam Haslam cruised to an easy third position, seven marks ahead of Ross Danby.
Judging by the marks lost the club did a superb job with a re-vamped trial this year. It looks like the section severity was perfect.
First to congratulate Alexz was his team mate Michael Brown who was happy with his own riding and speed on the moors in preparation for The Scott this coming Saturday.
This big win is well deserved and needed for Alexz Wigg who has battled hard all year. Well done to YOU! This will hopefully fill Alexz with confidence for this weekend Scott Trial where he joins Dougie Lampkin and Michael Brown in a formidable GAS GAS A Team.
Thanks to Factory Kev for prepping Michaels bike and the winners engine
Get well soon Dan Thorpe who retired with a stomach bug.
Photo courtesy of Eric Kitchen