Chris Alford makes it a brace at Withcall
Details

Please Change To Club Name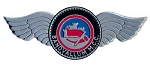 On Sunday morning at Withcall near Louth Banovallum Mcc held the 2nd day of the 10th Anniversary Trial. After the Saturday evening trial the course plotters were busy altering the sections for the riders to challenge themselves.
Again it was Chris Alford who was the winner dropping 13 marks to Jess Bown on 28. On the middle route Roman Kyrnyckyj lost 14 marks to Luke Hough-Whelpton on 17.
On the 50/50 route Stuart Wood dropped 19 marks and Tony Bilton was in 2nd place on 32. Ian Napier took the win on the Easy Route losing 28 to Mike Sanderson on 36.
A big thanks goes to observers for there continued support also to the organisers and the land owner for the use of his land.
Our next trial is on Saturday 8th July at Wickenby LN3 5AX