Banovallum MCC Alec Baumber Memorial Trial
Details

Please Change To Club Name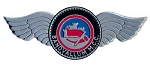 On a real autumnal Sunday morning Banovallum Mcc held The Alec Baumber Memorial Trial at Welton le Marsh quarry near Alford.
With some very testing sections which had overnight rain on them Tom Ablewhite was victorious on the Expert route losing 8 marks and Mike Evans in second place on 51.
On the middle route Tom`s dad Pete had a good ride to take the win from Luke Staples by 17 points to 27.
Martin Cocks beat James Waters on the 50/50 route Matin dropping 8 marks to James`s 13.
Father and son Paul and Alex Woodhouse were fighting for the victory on the White route with Dad taking the honours 3 marks to Alex`s 7.
A big thanks go to the Observers for standing about all day watching you all and also a big thanks to the officials and course plotters for organising the event.
Our next trial is The Dick Woolsey Trial at North Ormsby near Louth LN110TJ on Sunday 8th October satrting at 10.30.