British Champ Wins at Withcall
Details

Banovallum MCC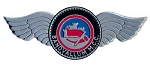 British Trials Champion Jack Price took the win at Banovallum MCC Trial at Smith's Farm Withcall. In a closely fought contest with Tom Ablewhite Jack dabbed only twice to Tom on 4 with Luke Hough Whelpton on 44 in third place.
Pete Ablewhite was the winner on the middle route losing 42 in second place was James Waters on 48 and Steve Marwood in third on 52.
On the 50/50 route Mick Grant beat Shane Payne into second place by 46 points 49 and Andrew Frith was in third on 55.
Eric Lonsdale only dabbed twice to secure the win on the white route with Lim Waters in second place on 4 and Mick Smalley also on 4 in third but Kim went further clean.
Thanks goes to the observers Jane, Ian, Ken, Tim, Graham, Dave, Stuart, Rose for giving up their time and also the officials and course plotters for organising the event.
Our next trial is at North Ormsby near Louth LN11 0TJ on Sunday 5th November starting at 10.30.