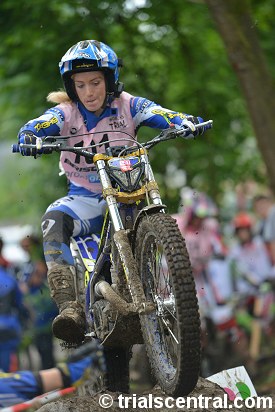 Britain's Emma Bristow – Sherco dominated the opening round of the 2014 FIM Women's Trial World Championship held at Comblain au Pont, Belgium as she came home twenty-four marks clear of her nearest rival. Runner up to Laia Sanz in the title race for the last three seasons, Bristow signalled her intent to go one better this year as she carved out an impressive initial victory over her compatriot and long time rival Rebekah Cook – Beta. Cook claimed second place by a single mark as she demoted Sandra Gomez – Ossa to third on the day. Gomez's demise came as she recorded her worst showing on the final lap of three.

Following a similar route to their male counterparts, the twenty six female riders representing seven different nations faced three laps of ten sections in changing conditions, Sections five and nine were omitted from a total of twelve hazards for the Women. Heavy rain showers played havoc with the already slippery boulders and bankings and saw scores rise during the latter part of the Trial as the weather played its part.

Given the mud and rain it is perhaps no surprise that four British riders featured in the top five with Katy Sunter – Gas Gas finishing fifth, three marks down on Italy's Sara Trentini – Ossa who placed fourth. Although from fairer climes Sara made the most of her experience gained from having ridden the Scottish Six Days Trial on a few occasions in similarly tough conditions. Trentini, like most of her fellow competitors saw her lap scores increase as the day wore on, her third lap score of twenty being her highest of the Trial.

From the outset Bristow was simply in a class of her own, she completed the first lap of ten greasy sections for no loss, whilst her nearest challenger Cook parted with eight marks during the same period. Gomez and Sunter were the next best on the opening tour as they posted intermediate scores of fourteen and sixteen respectively, with Trentini in an initial fifth place just one mark further back.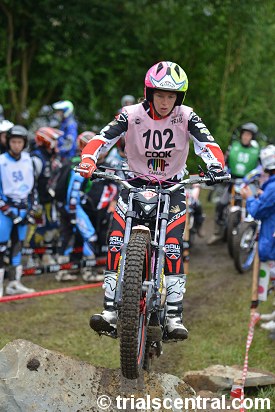 With the heavy rain having done its damage Emma recorded lap totals of six and eleven over the two closing loops to finish the day on a mere seventeen marks, which was almost what her main rivals had lost on lap one. Gomez threatened to steal second spot away from Cook with an excellent second lap showing, but was unable to repeat this on the third lap and finally had to settle for the last step of the podium.

Germany's Theresa Bauml – Ossa and Ina Wilde – Sherco took sixth and seventh positions at the wet and muddy Belgian Grand Prix with scores of sixty and seventy-one marks respectively, their totals reflecting just how tough the opening round of 2014 FIM Women's Trial World Championship had been. The Spanish pairing of Mireia Conde – Beta and Elisabet Solera – Gas Gas occupied eighth and ninth spots in that order as they both recorded scores just shy of eighty marks. Frances' Pauline Masanes – Gas Gas completed the top ten as just ten marks separated eighth to sixteenth places in what was a close and fiercely fought first round.

The 2014 FIM Women's Trial World Championship will now enjoy its traditional summer break, with the second round of the series set to take place in Spain, once again alongside the men, in early September.
Ladies Championship Results


1. Emma Bristow - 17
3. Becky Talbot (Cook) - 41
3. Sandra Gomez - 42
4. Sara Trentini - 49
5. Katy Sunter - 52
6. Theresa Bauml - 60
7. Ina Wilde - 71
8. Mireia Conde - 74
9. Elisabet Solera - 77
10. Pauline Masanes - 78
Photo Coverage
As this was a joint event with the Men's World Trial, the Men's and Women's Galleries are combined.
Free Public Photos (12)
Trials Central Supporters Photo Coverage (200) - these are our own photos and will not be seen anywhere else. Supporters photos are higher resolution and carry no watermark.