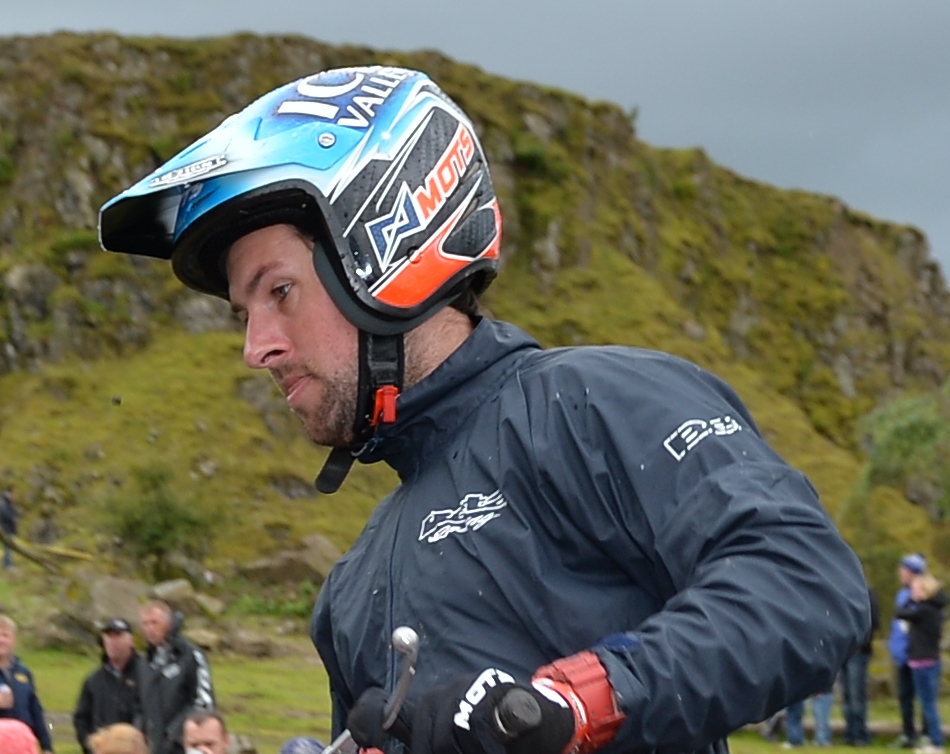 Three times British Trials Champion, James Dabill – Beta is now certain favourite to regain the domestic crown he lost in 2013 after taking victory today at the West of England Motor Club Anthony Rew Trial, the sixth and penultimate scoring round of the 2014 R.T. Keedwell ACU British Trials Championship held at Lustleigh in Devon. With a back-to-back weekend and a twelve point lead in the Championship standings over reigning champion, Michael Brown – Gas Gas, even if Brown wins the final day of the year tomorrow, Dabill can finish as low as seventh place and still regain the Championship title.
If Dabill was suffering from nerves during today's competition, then he certainly wasn't showing it. A single dab on the sixth section and a further dab on the ninth gave him a first lap score of just two whilst the remainder of the field all clocked up scores of double figures. Brown started well, riding clean until the eighth section, but a score of three on that and a further three immediately after on the ninth and then another on the eleventh and finished off with a dab on the twelfth meant, at this level of the sport, his challenge was effectively over and not only had he to somehow try and stage a comeback, but he also had to fend off the challenge for second place from Alexz Wigg – Gas Gas who was nipping at his heels, just one point adrift.
There was a glimmer of hope for the reigning champion in the second lap when Dabill dropped a maximum five on the eleventh section, one he'd ridden clean on his first visit. That five along with scores of two on the fourth and eighth sections put him on nine for the lap and eleven overall. Brown, though scoring better than his first lap, had four single dabs and again a score of three on the eleventh section putting him on seven for the lap and seventeen overall with just one lap remaining. Wigg, with a lap score of six, pulled back a further point on this lap to find himself tied with Brown and all to play for over the final twelve sections.
Unperturbed by previous events, all three riders upped their game in the third and final lap. Brown, though he knew he had an uphill struggle on his hands, turned in his best performance of the day, dropping just two single dabs on the last two sections to give him a final score of nineteen. Dabill too turned in his best lap score, riding clean to give him an overall score of eleven and put the British Trials Champion title within touching distance. Wigg, though also recording his best score of the day, could not maintain his earlier momentum and finished on an overall score of twenty-two to take the remaining podium place.
In the Expert Class, the unstoppable Guy Kendrew – Beta continued his onward roll to clock up his sixth victory from six starts with a six point victory over John Crinson – Sherco with Tom Affleck – Sherco completing the top three, four points adrift from Crinson.
For us, following 14 weekends away from home in a row, Devon was just a drive too far. A gallery of images from this event can be found over on the West Of England website here.
The 2014 R.T Keedwell ACU British Trials Champoinship reachies its climax tomorrow with the final day of competition at the Rene Pearce Memorial Trial which is taking place at Brousenter Farm, Peter Tavy, Tavistock (PL19 9NA for SatNavs)