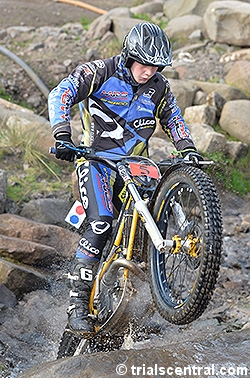 Thomas MintaThe 2014 Luscombe Mitsubishi Leeds ACU British Youth A&B Trials Championship headed north of the border this weekend for a double-header of competition with rounds five and six of the series being hosted by Stevenston and District Motorcycle Club at the highly-praised Bob MacGregor Trials Academy, a dedicated Trials facility housed in a disused quarry set in the rolling countryside of East Ayrshire, some thirty minutes south of Glasgow.
In the A Class, Championship leader Dan Peace - Gas Gas failed to maintain the clean sweep of victories he's enjoyed so far this season with Thomas Minta - Sherco claiming top spot on the podium and notching up his first win of the series and Tom Hooper - Sherco finishing in third place.
On the compact course of twelve sections, each to be ridden three times, it was championship leader Peace who set the early pace with a confident ride, dropping just two single dabs on the third and ninth sections. Minta didn't get off to the best of starts with dabs on the opening two sections, but settled down until another dab on the seventh section and a two on the tough ninth put him on a score of five for the lap and in second place after Hooper who showed early promise with just one dab on the second section picked up a maximum five on the tenth to find himself in third position.
All three riders ran their second lap clean right up until the eighth section where Minta picked up his first single mark which he immediately followed with a two on the ninth. All was going well for Peace until he collected his only three marks of the lap, all on the ninth section, whilst Hooper was also looking like a clean lap could be on the cards until it all went disastrously wrong with a five on the tenth - the same section he'd dropped five on in the first lap. With all three riders picking up penalties it was Peace who entered the final lap of the competition with a three mark advantage over Minta whilst Hooper, whose two fives had effectively put him out of the challenge for the victory sat a further thee marks adrift.
With just one lap remaining, it was clean after clean for the top three and it looked very much like Peace would clock up his fifth win from five starts. That is, right up until the very last section when disaster struck for the Gas Gas-mounted youngster. On the very final step of the very final waterfall section it all went horribly wrong and the resulting five along with Minta's clean ride across all twelve sections gave the Sherco protagonist his first top podium spot this year. Hooper, despite knowing he faced an uphill struggle to come back didn't give up and turned in his best lap score of the day picking up just one single mark, again on the final waterfall section, to assure himself of third place.
Despite today's setback, Peace remains favourite to take the Youth A title with a fourteen point buffer over Hooper in the overall Championship standings. The battle could now be for who secures second place as Minta is now just three points behind Hooper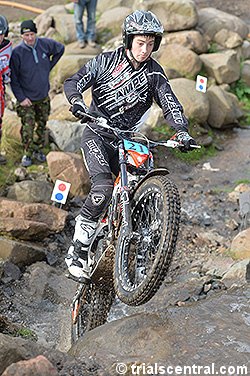 Toby Martynwith two days of competition remaining and each rider allowed to drop one result from the series.
In the B Class Championship, Toby Martyn - Beta bounced back in style from his third place finish at the fourth round in Northumbria back in August with a score sheet that read zeroes from start to finish, riding the entire day without a single penalty. Although today's Trial was only a short journey for Fife youngster, Joe Dawson - Beta, it was one well worthwhile as he took second place to record his best result of the season. For Somerset-based George Marshman, the journey was much longer, but he too can go home happy after earning his first podium place this year, taking third place.
Whilst the B Class Championship was neck and neck between Martyn and Sam Yeomans - Gas Gas prior to this event, with both riders having seventy Championship points, that is no longer the case after Yeomans finished in a lowly sixth spot today. Having earned maximum Championship points on the first of the two days of competition here, Martyn now has a nine point lead over Yeomans in the Series standings whilst Jack Peace - Gas Gas, who finished fourth today closes the gap between himself and Yeomans to just four points.
The action resumes at the Bob MacGregor Trials Academy tomorrow when once again the riders will go head to head over what is expected to be a course toughened by Clerk of the Course Paul Battensby - who just happens to be celebrating his fiftieth birthday this weekend! Happy Birthday Paul!
Photo Coverage
All photos are our own and will not be seen anywhere else


Free Public Photos (12)