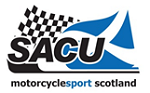 The SACU Trials Committee held their annual awards ceremony on Saturday 6 December at the Army Reserve Centre in Livingston. This was the first time the awards have been conducted as a single discipline ceremony, and was well received by the 120 who attended the event with attendees from as far afield as Aberdeenshire, Lochaber and Inverness.
Guest of honour on the evening and the man presenting the awards was Jackie Williamson, the oldest surviving Scottish Trials Champion and who held the crown from 1962 to 64. He was accompanied by his wife Rose and both had a great night catching up with old and new friends.
A lifetime achievement award was presented to Andrew Dignan of Lochaber who very much dedicated the award to his late wife, Grace. A cheque for £1000 was also presented to the Bob MacGregor Trials Academy in recognition of the sterling work they are doing to promote and develop the sport in Scotland.
All who attended the event had a great evening and look forward to 2015 season.
The SACU Trial Committee would like to thank all who attended, and would like to pass on their thanks to all Scottish Clubs who ran a Championship round in 2014. They would also like to thank all observers, officials and the many other people who make our sport happen.
A special thanks must go to Gary Coward of Highland Leisuresport for sponsoring the Awards Event, and John Moffat for acting as the MC.
Trials Central were invited down for the evening by event organiser, Sandy Mack and are making the original hi-resolution image files of our photos completely free of charge to anyone who wants them (for PERSONAL use only). For copies of images, please use our contact form to get in touch and quote the file name(s) you want. These are displayed in the bottom right of each photo.
{vsig}/2014/sacu_presentation{/vsig}
Championships Final Standings
| | | | |
| --- | --- | --- | --- |
| Adult Champion | 1st Gary MacDonald | 2nd Andrew Anderson | 3rd Craig Houston |
| Sportsman Championship | 1st Gareth Palmer | 2nd Neil Dawson | 3rd Phil Macrae |
| Over 40s Championship | 1St Billy Ross | 2nd Brian Nichol | 3rd Mark McComisky |
| Clubman Championship | 1st Chris Moir | 2nd Iain Shankie | 3rd John Norrie |
| Wobbler Championship | 1st Vicky Anderson | 2nd Jim Mair/JP Santini/B Brown | 3rd Alan Relly |
| Twinshock Championship | 1st Gary MacLennan | 2nd Wullie Gillespie | 3rd Ross Thomson |
| Pre 65 Championship | 1st Liston Bell/Murray Whittaker | 2nd Mark Whitham/Duncan Mitchell | |
| Youth A Championship | 1st Lewis Byron | 2nd Joe Dawson | 3rd Harry Sheriff |
| Youth B Championship | 1st Duncan MacColl | 2nd Daniel Lamont | 3rd Haggart Mackenzie |
| Youth C Championship | 1St Ben Dignan | 2nd Brett Stein | 3rd Ross Galloway |
| Youth D Championship | 1st Brandon Carson | 2nd Grant Younie | 3rd Harris Fletcher |
| Youth E Championship | 1st Joe Drysdale | 2nd Ruari Younie | 3rd Lex Edgar |