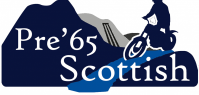 The ballot for the 2015 Trial took place on 6 December and letters were posted on Saturday 13 December to everyone who entered so, if you entered, you should by now know whether or not you were successful. If you haven't received your letter by the end of this week, please email This email address is being protected from spambots. You need JavaScript enabled to view it.This email address is being protected from spambots. You need JavaScript enabled to view it.. Thanks to everyone who entered and, if you were one of the unlucky ones, my commiserations and better luck next year.
297 entries were received for the 180 available spaces and a further 22 from the remaining eligible entries were balloted for the Reserve List. Communication between entrants and the club are improving and our stand at the Telford Show last year was a good launching pad for our new Machine Examiner to be able to speak to riders to give any advice on what is or isn't eligible to anyone who wanted it. Riders appear to be listening and taking note and this shows in the standard of the bikes being entered. If you have any eligibility questions you would like to ask, please email This email address is being protected from spambots. You need JavaScript enabled to view it.This email address is being protected from spambots. You need JavaScript enabled to view it. and I will pass them onto the Machine Examiner.
I have received a few emails regarding comments made by the Machine Examiner but these do not necessarily mean that you weren't entered into the ballot, some are merely a means of letting you know that there are aspects of the components that need to be changed if you wish to increase your chance of an entry in the future.
The pictures that accompany the entry form are important as they are the first steps in ascertaining whether or not the bike is eligible to be put forward for the ballot although they are not the only criteria. The whole purpose of the pictures is to see the bike as it will be ridden in Kinlochleven and it is the entrants responsibility to ensure that what is in the picture is eligible as they are used during the machine check prior to the event. It is in your best interests to ensure that the pictures are A4 size (full sheet of paper per picture) as requested, that they are in colour and they clearly show the components that are listed in the Machine Details Form. If the picture is too small, of poor quality, taken in the dark, taken at an angle or the printer ink running out and very pink in colour then the components cannot be clearly seen and you risk your entry being put to the side. If, for example, a delorto carburettor which is not eligible for the event is fitted in the picture because you use this throughout the rest of the year but you will be fitting an amal mk1 or mk1 ½ for the event, you need to ensure that this is clearly stated on the form and if successful in the ballot, you need to ensure that this is fitted on the bike before travelling to Kinlochleven as you will not be permitted to start without it. This example is the same for all the listed components on the Machine Details Form.
The Pre'65 Scottish Trial Committee would like to wish everyone a very Merry Christmas and a Prosperous and Successful 2015.
2015 Scottish Pre-65 Trial Entry List

Entry List
First Name
Surname
Kurt
Ahlgren
Eddie
Aitkin
Javier
Aldecoa
Hug
Alemany
Richard
Allen
Pedro
Andres
Paul
Anstey
Peter
Archer
Stephen
Armistead
Graham
Atkinson
Laurent
Baatz
Colin
Bailey
Tim
Baker
Nicholas
Baker
Carl
Batty
Thorne
Beckley-Pett
Liston
Bell
Michael
Bell
Lewis
Bell
Paul
Bennett
Billy
Bishop
Andrew
Black
Frank
Blackbyrne
Andrew
Blacker
Stuart
Blythe
Eric
Boocock
Robert
Bowyer
Tony
Bradley
Tim
Britton
Shaun
Brown
Neil
Buckley
Barry
Burton
Ben
Butterworth
Jack
Butterworth
Neill
Buttery
Ossy
Byers
Tony
Calvert
Alex
Carmichael
Andrew
Carruthers
Sara
Carter
Carlos
Casas
Paul
Casling
Alexis
Cautain
Kevin
Chapman
Iain
Clark
Dan
Clark
Philip
Clarkson
John
Colclough
David
Coughlan
Harry
Craig
Alan
Crayk
Javier
Cruz
Neil
Dawson
Luis
Diaz Bedate
Clive
Dopson
Graham
Du Feu
Graham
Dukes
Garry
Dwyer
Stuart
Edgar
Frank
Evans
Robert
Faulkner
Guy
Favre
John
Feather
Alan
Fender
Lennart
Frannesjo
Colin
Fray
Andrew
Frith
Antonio
Garcia Bonilla
Keith
Gardner
Javier
Gil Codesido
David
Glover
Robert
Goodwin
Alan
Gordon
Lee
Granby
Mick
Grant
Peter
Gray
Chris
Haigh
Alan
Halford
Sam
Hampshire
Owen
Hardisty
James
Harland
Mark
Harris
Philip
Harris
Tim
Hartshorne
John
Heenan
Jose
Hernaez Aymat
Simon
Heyes
Paul
Heys
Juhani
Himmanen
Andy
Hipwell
Phillip
Hodgson
Kevin
Hood
Phil
Houghton
Graham
Hutcheson
Michael
Irving
Alastair
Jackson
Hamish
Jamieson
Manel
Jane
Mika
Jansson
Angus
Jenkinson
Russell
Jones
Wim
Kroon
Robert
Lafferty
Martin
Lillywhite
Peter
Lockwood
Robert
Lowther
Robin
Luscombe
Sandy
Mack
Ross
Mackay
Vincent
Mackintosh
Gary
Marshall
John
Maxfield
Ian
McAnespie
Mark
McComisky
Eric
McMeekin
Bruce
Metcalf
Barry
Micklethwaite
Grant
Miller
Gerry
Minshall
Duncan
Mitchell
John
Moffat
Jose Rafael
Moreno
Davy
Morewood
James
Morton
Gordon
Muir
Martin
Murphy
Christopher
Myers
Matthew
Neale
Harvey
Nixon
James
Noble
Roy
Palmer
Steven
Palmer
John
Palmer
Gary
Parker
Andrew
Paxton
Jim
Pickering
Janice
Proctor
Gerard
Redden
Stuart
Rockett
Wim
Royackers
Paul
Salvadori
Joan Pere
Santure
Simon
Sharp
Andrew
Sharp
Garry
Shaw
Ian
Shedden
Robert
Shepherd
Norman
Shepherd
Nick
Shield
Tom
Sjoman
Martyn
Stanistreet
Harry
Stanistreet
Ian
Strickland
Tony
Swidenbank
Richard
Talbot
Anthony
Talbot
David
Thorpe
Inigo
Ucelay
Diego
Urreta
Didier
Valade
Yrjo
Vesterinen
Axel
Vilaseca
Darren
Walker
Mark
Watmore
David
Watson
Mike
Watson
William
Weatherhead
Keith
Wells
Mark
Whitham
Michael
Whitlow
Murray
Whittaker
Alan
Whitton
Eckehard
Wienstroer
Philip
Wiffen
Paul
Wilkins
Graham
Wilkinson
Leslie
Winthrop
Ashley
Wood
Marc
Wycherley
Brian
Young

Reserve Riders
First Name
Surname
Gary
Baker
Roger
Callaghan
Michael
Clarke
Anthony
Cooper
Salvador
Del Campo
Edward
Dobson
Scott
Dommett
Michael
Dorricott
Paul
Edwards
David
Emmott
Christopher
Gascoigne
Nigel
Greenwood
Chris
Hampshire
Thomas James
Kinsman
Duncan
MacDonald
Tom
McBride
Jamie
Reid
Jack
Slassor
Robert
Spencer
Allister
Stewart
Ross
Thomson
Ken
Wallington