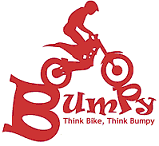 Bumpy held their 2nd Club Trial of the year on Wednesday night. A fantastic turnout of 47 riders rode 8 sections 4 times with 3 different ability routes plotted.

Andy Johnson made another comeback and had a fantastic ride to win on 13 marks beating 13 other hard route riders including Road Race Superstar 'General' Lee Johnston. Mick Smith was only 5 marks behind with B Class rider Frankie Rhodes another 5 behind in third. A few riders found some of the new rocks very tough.

19 riders started the clubman route with Paul Hobson taking a close win on 4 from Errol Brown on 5 and Nick Hammerton on 6.

There was 14 starters on the easy route but only one winner. Caroline Ward was faultless throughout. Eric Boocock parted with just 1 and Ged Fallon was third on 5. Owen Bostock, riding his first trial, won the 'Battle of BUMPY Staff' by beating Chris Waters (a veteran of 2 trials) by just a dab.

Our next trial is on 11th July.