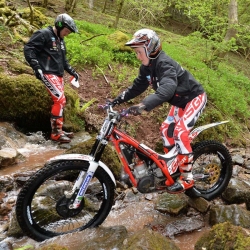 The weekend saw the start of the European Trials Championship in the Czech Republic. JACK PRICE WON the Youth Class which is a fantastic result.
Back on UK soil was the The Alan Trophy Trial organised by the Cumberland County Motorcycling Club Ltd. Team JST GGUK Multi National winner Dan Thorpe won yet again beating his good friend Chris Pearson. The big news is that JST GG girl Katy Sunter won the clubman class. The first female rider ever to do so in the 83 years of the event!
JST GG teamsters Alexz Wigg and Sam Haslam were first and second respectively at a Berkhamsted Trial.
Other good news is that Michael Brown will be back on a bike for the first time tomorrow. Fingers crossed he can make the BTC this Sunday.
Photo courtesy of Eric Kitchen