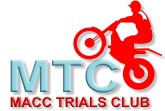 NorthWest and Midlands trials riders have a great new trial to ride in mid- August, the 17th, when the Macclesfield Trials Club hold a two lap, 20 section road based trial which will start from one of the club's regular venue.

This brand new event for the club will be called the Base Camp Trophy Trial (BCTT) with the support of Mike Edwards' outdoor clothing and equipment shop based in Stockport and the awards for the various class best performances will be from the Dave Rowland collection generously donated by Scott Rowland and his mum Doreen.

"David was always proud of the awards that he won, but they have no meaning to anyone in a trophy cabinet, so Scott and I are very pleased to make these available to a local club for local riders to challenge for" said Doreen.

August 17th is the date for this great new trial which will use well-known local groups of sections like Hazels via the communication tower at the top of the hill, then the land that Ken and Toby Eyre created for the John Macdonald Trial, followed by Milkingsteads via another group before returning to Rough Hey and then another lap.

Regular club organiser Andy Foot is relishing the challenge of plotting this trial. "I've been fortunate to ride a good number of the Northern and Yorkshire Centre road based trials so I'm hoping to be able to use that experience to make this a really good trial for riders who regularly ride Macc events and indeed visitors who may not have ridden with us in the past.

More details and how you enter can will be announced in the very near future.