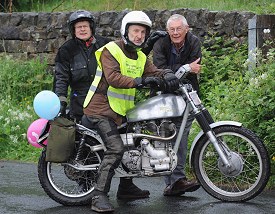 Trials bike enthusiast Graham Lampkin is on course to raise an amazing £3,000 for Cancer Research. Graham, 62, from Colne, is a member of Red Rose Classic MCC and hit on the unique idea of riding from East Lancashire to Lerwick in the Shetland isles– using as many off-road sections as he could. Riding his works rep Royal Enfield Bullet, specially adapted with a comfortable seat, luggage rack and long distance tank, he was joined by his friends Frank Anderton and Les Humphries. The trio hit the road on June 3 from Watery Lane in Colne heading towards the north of Scotland before spending four days on Shetland, returning on June 13. On day five the men awoke in Lerwick, and were welcomed on the dockside by well-wishers, after which they made their way to the Lerwick bike show.
Graham said: "This trip was a great one. The route and the journey itself, the folk on Shetland and others we met, the many generous people who donated, the places and things we saw by taking the slow route. Any these things would have made it worthwhile, but together, experienced on an old British bike, I can only say wow. The long term test will be the amount of money raised for this very worthwhile charity.
"Cancer can leave survivors with mental and physical scars for many years . It has significant impact on those close to the sufferer. Most of us know someone who has suffered cancer.
"The more raised now, the sooner the researchers will reduce or cure the condition."
Anyone wishing to donate please visit www.lampygoestolerwick.co.uk