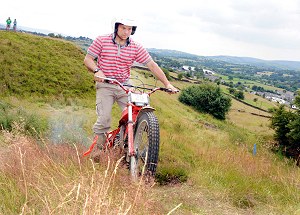 RED Rose Classic MCC may have had a smaller-than-expected entry for their club trial at Noyna last weekend – but those that did enjoyed almost riding perfect conditions.
Rearranged to accommodate the National Twin Shock round on August 10, 25 competitors enjoyed the glorious sunshine for four laps of ten sections at the picturesque venue at Noyna, near Colne.
Clerks of the course Chris Riley and John Brindle plotted a variety of challenges, using the steep grassy banks and rocky outcrops to test man and machinery. "It's perfect trialling conditions, and there's the added bonus that it's so dry, no-one will have to clean their bikes afterwards!," joked secretary Pete Kenyon.
Andrew King (Fantic) dropped just five marks, all on section one, to claim the honours, ahead of John Hird (Yamaha) and Steve Thomas (Bantam) who both finished on 11 marks lost.
In the classes, there were wins for King, Thomas, Max Heys (Cub), Eric Atkinson (James), and Alan Taylor (Yamaha).
Red Rose would like to thank the clerks of the course, the landowner and the observers, and their next event is the National Twin Shock on August 10 at Pendle Hall Farm, Padiham.BB12 9AF.
Results
Class C: Steve Thomas (Bantam) 11, Paul Edwards (James) 13, Alan Mills (Bantam) 16.
Class Ce: Max Heys (Cub) 4, Peter McCawley (James) 9, Frank McMullen (Cotton) 18.
Class D: Eric Atkinson (James) 64, no other finishers
Class T: Andrew King (Fantic) 5, John Hird (Yamaha) 11, Bryan Hardaker (Yamaha) 20
Class Te: Alan Taylor (Yamaha) 30, Matt Taylor (Yamaha) 23, Martin Richardson (Suzuki) 35.