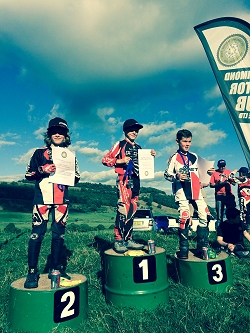 OSET Bikes made it a clean sweep for the second year running in the British Youth Trials Championship. The electric bike manufacturer cleaned up in the D-Class, dominating the podium throughout the year, taking the top five spots.
Arguably one of the most competitive classes of 2014, the Championship was only decided on the last section of the last lap at the last round! Harry Hemingway, took the win from Buxton's Harry Turner. The two, who had vied all year for the top spot, were finally separated by just one dab!
Incredibly, this is the first time a Hemingway has won a national title, something that dad, Dan couldn't be prouder of. He said: "Harry was incredibly nervous before going into the final round. He knew he had the opportunity to win the championship and it was tremendously tense – as the slightest mistake could have meant the difference between first and second. As a family we are really proud of Harry's achievement and delighted all that practice has resulted in him taking home a trophy he will covet throughout his life!
"Harry T was amazing all year. He is always cool and calm and you can't underestimate the difficulty and pressure to perform in front of a crowd of parents and riders when so much is at stake. It's testament to them, just how mature their riding is when they are still just eight years old!"
Paul Turner, Harry T's dad, added: "I'd like to say a massive thanks to all at OSET for supplying a fab bike and creating some fantastic moments this year for Harry, to all at Hope for our stopping power and just to say that I'm in awe of my little mate for taking this year's British D class championship to the very last section, there couldn't be a prouder dad."
Moving up from fourth spot last year and into third was a delighted Dominic Horne. Riding consistently well throughout the championship meant the Yorkshire youngster secured third before heading into the final round at Richmond.
The Isle of Man's Bradley Calvert made a huge commitment this year to the British championship. The youngster, who moves up to C-Class next year raised him game considerablely after the first round to take the fourth spot.
Meanwhile, Myles Hutchinson in his first year of D-Class enjoyed some incredible rides throughout the season, learnt a lot and is looking forward to improving fifth place next year.