The big question l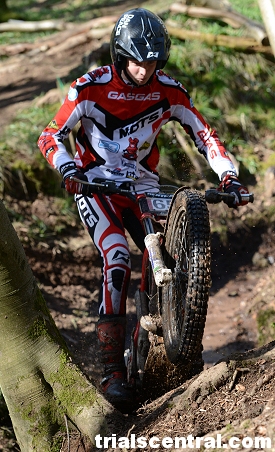 Dan Peaceeading up to the third round of the ACU Luscombe Mitsubishi Leeds British Youth Championship at Low North Park on Sunday is will JST Gas Gas teamster Dan Peace crack under pressure at his home venue? His mother Jayne has chased her boy round the wooded acres of the Scarborough Motor Club's splendid trials venue for over ten years. Dan must know every rock, tree root and stream in the former army camp. On the face of current form the six footer from Kirkbymoorside is rock solid on maximum points, plus his Euro youth victory further emphasised his current standing. Porlock's Tom Hooper will be on Dan's case as will Shropshire's Tom Minta and local ace Michael Todd. Isle of Man entry Juan Lace is the unknown quantity as is Richmond's Tom Alderson who shares fourth place in the standings with Todd. Ten start in Class A and further twenty one contest Class B.
The B class is a totally different kettle of fish to their more experienced counterparts. Truro's brilliant Toby Martyn shares the leader board with Sam Yeomans on thirty five points then Sam Johnson and Jack Peace are hovering on thirty points with George Spivey showing a twenty two. The outsiders on form are Jacob Snowden, Oliver Rouse, Joe Dawson, Zac Collinson and Joe Faunthorpe who are all northern class winners this year.
The entry is strong in talent and numbers for the C and D Championships with event Secretary, Eileen Race having fifty three youngsters, from the age of six upwards, competing in three different classes. As it is the first of seven trials there is no form book to check, however each class contains some very well known class winners. In Class C medium wheels Newton Abbot youngster Billy Green will go head to head with Liecester's Daniel Slack continuing their 2013 joust. Edward Earle, Charlie Mosley, Mathias Salin and Adam Biggins will also be in the thick of the action. Ulster hopes lay with Reece Gazard while Ben Dignan and Ross Galloway carry the Scottish votes. Fifteen riders will contest the class.
Twenty Class C medium wheel riders start their championship. Known recent winners are Henry Stephenson, lately converted to Beta power, Elliott Laws, Richard Pulman, Monte Andrew, Harvey Mosley and Harvey Child.
The remaining eighteen entrants, the youngest in the pack are all equally determined. All but four are seeking championship points. Heading the list are George and Harry Hemingway riding Oset machinery. Their threats will come from Myles Hutchinson on his Appleyard Oset and Silsden neighbour Josh McParland who has Aaran Sherwin on his track and is rapidly learning Beta 50 power. The unknown trio making the journey from the Isle of Man are Alfie Swales, Bradley Calvert and Robert Moyer Make no mistake Low North Park will be a battlefield, mainly between the parents on Saturday. The younger the classes, the more heat generated.