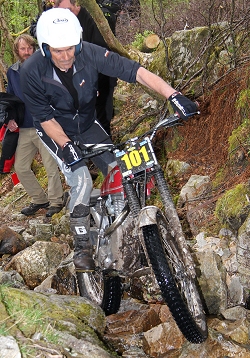 The trials world was stunned to learn that popular Pre'65 specialist Leonard (Len) Hutty Jnr of Camberley, Surrey passed away after a short illness on Tuesday, 28th October.
Nicknamed 'Little Len' to avoid confusion with Len Senior, he followed his father who then became known as 'Big Len', into trials, taking up the sport by competing in Surrey Schoolboy Trials Club events in the early 1970's.
Part of a locally based civil engineering and ground-works family, he honed his skills as a youth competitor, then as a young adult rode Kawasakis in the Scottish Six Days at the end of the decade, one a 310cc and the other a 250; not a popular machine at the time, but this merely reflected Len's individualistic style.
He took up Pre'65 competitions, when it became popular from the mid-eighties onwards and his weapon of choice was the long-stroke Matchless G3C, suitably prepared by the late AMC wizard, Maurice Hocking.
Len rode the prestigious Pre'65 Scottish and Talmag trials many times, winning the Talmag, but his aim to be victorious in Scotland was not to be, although he came very close quite a few times. Len Hutty was a hard man to beat in any event he took part and he rode against the very best of Britain's riders.
Len spent years developing his Matchless with Hocking's help until Maurice passed away in the late nineties, but Len continued to improve his steed himself. He became a wealth of knowledge on the Plumstead built machines. One of his Matchless machines was stolen and never recovered, undeterred, Len set about building another exactly the same.
Trials fans would move closer to the edge of Pipeline, the iconic Scottish section, just to see Len make the section look like a 'main road' on his burgundy tanked 410cc Matchless. The sight and sound of that bike was one that trials fans will surely miss at future events.
Some of his quick-witted local Surrey mates reckoned that Len merely used his tarring skills to flatten the sections, such was his reputation!
But it was the southern mud trials that Len first honed his skills and he was known as the 'Mud Maestro' by some. Len's riding ability allowed him to master rocky sections, which few southern riders achieved in their careers.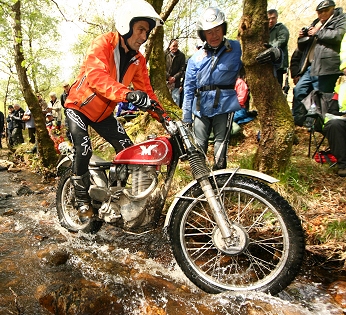 Len was very much an individual, a free thinking man who was never shy of voicing his opinion and opinions that were always carefully thought out and positive for the sport he not only loved, but excelled in.
Safe to say, if Len didn't agree with what you said, he was quick to point out why he disagreed.
Len Hutty Jnr gained the respect and admiration of his many peers in the sport of trials; he was a big lad, with a big personality, on a big bike. Len made friends the world over through trials and was well-known to riders and enthusiasts alike.
Len will be sorely missed in the trials paddocks and the wider trials community convey their sincere condolences to his widow, Beverley and the rest of the Hutty family at this difficult time.
Words: John Moffat. Images: Donald Young & Trials Central collection