British Championship Heads For Scotland
Details

Trials Central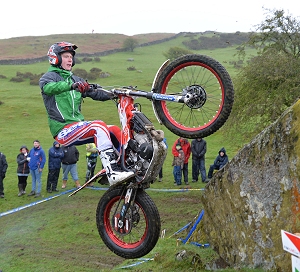 The RT Keedwell sponsored British Trials Championships reach their conclusion this Saturday and Sunday at the Bob Macgregor Trials Academy, Totherick Quarry, Dunlop East Ayrshire KA3 4EH. This superb facility which is to the South-west of Glasgow has proved very successful over the past few years and has plenty to sort out the Championships.
In the main Championship, there are really three riders in contention, Jack Price, Jack Sheppard and Michael Brown. Price holds a 6-point advantage over Sheppard and 11 over Brown. Jack Sheppard won the Guisborough round whilst Price has taken three rounds. With this being a double header weekend there are still a maximum 40 points on offer so nothing can really be taken for granted. Besides the top three we must not discount quite a few others and on current form Dan and Jack Peace, Iwan Roberts and Toby Martyn all could make a bid for the podium.
In the Expert Class Richard Sadler holds and 8-point lead over James Fry with Dan Thorpe 10 points back on James. Leyburns Richard Sadler has not finished out of the top two since the opening round at Hook Woods so he is riding with confidence. Fry and Thorpe can never be discounted however so it will be interesting to see how it pans out.
Billy Green has won every round of the Youth A Class competition so far. Duncan MacColl has got the closest to beating Billy when they tied on marks lost at the last round in North Yorkshire but then lost out on the most cleans rule. Josh Hanlon and Olly Smith are also in close competition for a top three final placing but Green only needs 13 points from the two events to become the class Champion.
Action starts on both days at 9.30 am when riders start out for three laps of 12 sections all of which are within easy walking distance. There is good parking and catering on site so it should make for a good series finale.