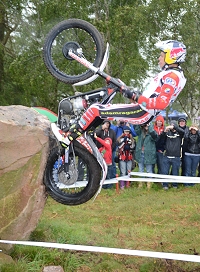 Toni Bou - Repsol Montesa recorded his tenth win of the season as he was victorious of the opening day of the Grand Prix of Great Britain that marks the final stop on the 2012 FIM Trial World Championship. Bou overcame difficult conditions as rain showers added extra severity to an already tough course at the Nord Vue venue near Penrith to beat his team mate Takahisa Fujinami - Repsol Montesa by nine marks. Adam Raga - Gas Gas rounded out the podium and more importantly closed in on his rivals in the race to become vice World Champion as Jeroni Fajardo - Beta and Albert Cabestany - Sherco finished fourth and sixth respectively.
Cabestany endured a disastrous first lap when he dropped a massive fifty-one marks as he completed his opening tour at speed in an attempt to escape the rain that threatened for most of the day. In reality a heavy shower arrived just as the World Pro riders reached the end of the opening lap and this was reflected as Bou notched his only three failures in the final third of the hazards. Despite his late and significant losses Toni still led at the mid point of the Trial by thirteen marks from Fujinami and Fajardo who were tied in second place at this stage. Fourth after the initial fifteen sections, Raga produced the best second lap score as the weather improved, helping to dry out the course for the closing half of the competition. His tally of seventeen marks was one less than that scored by both Bou and Fujinami and was sufficient to give him the remaining podium place behind the Repsol pairing. Raga's result today could prove crucial as he is now tied with Cabestany in the general standings with these two bitter rivals trailing Fajardo by just three points with just tomorrow's Trial remaining.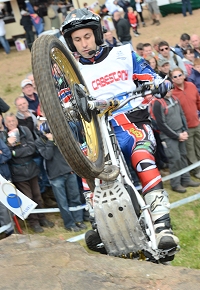 Francesc Moret – Montesa also took a significant step towards securing the runners up spot in the Junior championship as he claimed his first victory of the year at this important moment in the season. He now has a thirteen point advantage over both Benoit Dagnicourt – Beta and Pol Tarres – JTG who finished second and fifth respectively today. Belgium's Maxime Warenghien – Gas Gas completed the Junior rostrum this time out to back up the win he took at the last round in Italy. Jorge Casales – Gas Gas continued his good run of form by taking fourth spot today, and doing so moved one mark ahead of Jack Sheppard – Beta in the general standings to occupy fifth place with just one counting day remaining.
In the Youth division Britain's Bradley Cox – Beta gave the large home crowd much to cheer about as the teenager achieved his first ever win at this level after having finished as runner up already seven times this season. After a strong opening lap Cox was closed down by Italy's Francesco Cabrini – Beta, and had to endure an agonising wait before he learned that he had taken the victory by just three marks. Oriol Noguera – Sherco rounded out the Youth podium thanks to two consistent lap scores. Cox now looks favourite to finish as runner up in the series after his closest rival Sverre Lundevold – Beta slumped to seventh spot today.
Tomorrow will see the second and final day of the Grand Prix of Great Britain, which will conclude and decide the final rankings in all three main classes of the 2012 FIM Trial World Championship.
Coverage from Day Two can be found here.
World Championship Results

1. Toni Bou - 43
2. Takahisa Fujinami - 52
3. Adam Raga - 56
4. Jeroni Fajardo - 61
5. James Dabill - 67
6. Albert Cabestany - 82
7. Jack Challoner - 101
8. Alexandre Ferrer - 105
9. Michael Brown - 111
10. Alexz Wigg - 126
11. Daniel Oliveras - 134
12. Matteo Grattarola - 137
13. Eddie Karlsson - 139
14. Pere Borrellas - 147
Junior Championship Results
1. Francesc Moret - 31 (17 cleans)
2. Benoit Dagnicourt - 31 (16 cleans)
3. Maxime Warenghien - 43
4. Jorge Casales - 49 (12 cleans)
5. Pol Tarres - 49 (11 cleans)
6. Jack Sheppard - 56
7. Tanguy Mottin - 61
8. Cedric Tempier - 73
9. Giacomo Saleri - 79
10. Matteo Poli - 81
11. Hakon Pedersen - 84
12. Ben Morphett - 92
13. Jack Spencer - 93
14. Ross Danby - 93
15. Steven Coquelin - 95
Youth Championship Results
1. Bradley Cox - 22
2. Francesco Cabrini - 25
3. Oriol Noguera - 31
4. Luke Walker - 33
5. Martin Pochez - 42
6. Quentin Carles de Caudemberg - 46
7. Sverre Lundevold - 47
8. Timo Myohanen - 54
9. Tom Dexter - 55
10. Robert Waite - 57
11. Ignacio Martin - 65
12. Dec Bullock - 69 (7 cleans)
13. Martin Matejicek - 69 (5 cleans)
14. Pietro Petrangeli - 82
15. Brad Bullock - 87
Photo Coverage
Free Public Photos (10)
Trials Central Supporters Photo Coverage (135)
Trials Central Supporters Exclusive Maximum Resolution Photo - Jeroni Fajardo (13MB)