Toni Bou – Repsol Montesa took an important step toward securing the 2013 FIM Trial World Championship when he won the opening day of the British Trial Grand Prix held at Penrith. Bou has now opened up a seven point advantage at the top of the table, the biggest lead he has enjoyed so far this season as his team mate Takahisa Fujinami – Repsol Montesa helped his cause by coming home in second place. The two Repsol riders finished well clear of the chasing pack with Adam Raga – Gas Gas eventually taking third spot, but with a score more than double that of the leading duo. Raga can count himself fortunate to have clawed his way back onto the podium after a disastrous first lap placed him down in sixth position at that interim point in the competition.

Jeroni Fajardo – Beta just missed out on a top three placing as he finished on one mark more than Raga after both riders recorded their worst performances on the third and final lap. Albert Cabestany – Sherco closed out the top five as he too suffered a poor end to what at one point looked like a potential podium result. In terms of fading performances, it was James Dabill – Beta who was most evident in this regard. Dabill thrilled the home crowd on the opening lap as he rode himself into an intermediate second place behind Bou, but then saw his day fall apart over the next two laps to end the first day of his home GP down in sixth position.

The British summer continued at the Nord Vue venue with the riders facing a series of dry and dusty sections that proved to be a tough test for the World Pro riders in the hot temperatures. The mainly man made hazards were unforgiving and punished any small errors as Raga was to discover as early as the second section of the day. Another five two sections later was to pretty much seal his fate, and may prove to be costly as he tries to keep in contact with championship leader Bou. Fujinami produced a single dab, closing lap to equal Bou's performance on lap two, and to move back ahead of Cabestany in the general standings.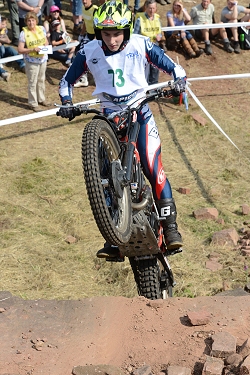 Jorge Casales – Gas Gas further extended his lead at the top of the Junior standings as he recorded his fourth win of the campaign. Casales put himself out in front on the first lap with a one mark loss in the initial twelve sections, and only came under pressure on lap three as his title rival Pol Tarres – Sherco closed within a mark of him. Tarres recovered well after a first lap five to finish as runner up on the day and to strengthen his second place in the overall standings as Jack Sheppard – Beta finished down in fifth place on day one of his home GP. Francesc Moret - Gas Gas rounded out an all Spanish Junior podium and in doing so has moved closer to Sheppard in the fight for third spot in the series.

Quentin Carles de Caudemberg – Beta sealed the 2013 FIM Youth Trial World Cup in true championship winning style by taking his sixth victory of the series today. Even with three counting days remaining the eighteen-year-old French rider cannot now be overtaken in the general standings with the title being decided on the best eleven results. Carles de Caudemberg went clean on the opening two laps before dropping six marks on his closing lap. This saw him finish just three marks clear of Gabriele Giarba – Beta who continues to hold second spot in the championship table. Kenny Thomas – Beta rounded out the podium, as series regular Bradley Cox – Beta was demoted to fifth on the day by his compatriot Iwan Roberts – Beta who recorded his best ever result at this level.

The second and final day of the British Trial Grand Prix will take place tomorrow, but maybe in much different conditions if the heavy rain that is forecast actually materialises.
World Championship Results

1. Toni Bou - 14

2. Takahisa Fujinami - 21

3. Adam Raga - 45

4. Jeroni Fajardo - 46

5. Albert Cabestany - 49

6. James Dabill - 55

7. Alexandre Ferrer - 66

8. Loris Gubian - 80

9. Matteo Grattarola - 86

10. Daniel Oliveras - 88

Junior Championship Results

1. Jorge Casales - 10

2. Pol Tarres - 11

3. Francesc Moret - 21

4. Cedric Tempier - 25

5. Jack Sheppard - 26

6. Jack Spencer - 28

7. Carles Traviesa - 29

8. Jonathan Richardson - 34

9. Oriol Noguera - 36 (24 cleans)

10. Giacomo Saleri - 36 (21 cleans)

Youth Championship Results

1. Quentin Carles de Caudemberg - 6

2. Gabriele Giarba - 6

3. Kenny Thomas - 10

4. Iwan Roberts - 13

5. Bradley Cox - 17

6. Pietro Petrangeli - 24 (29 cleans)

7. Declan Bullock - 24 (25 cleans)

8. Jack Price - 24 (24 cleans)

9. Martin Matejicek - 29 (27 cleans)

10. Timo Myohanen - 29 (26 cleans)
Photo Coverage
These are our own photos and will not be seen on any other website or publication
Free Public Photos (20)
Trials Central Supporters Photo Coverage (123) - High resolution, no watermarks