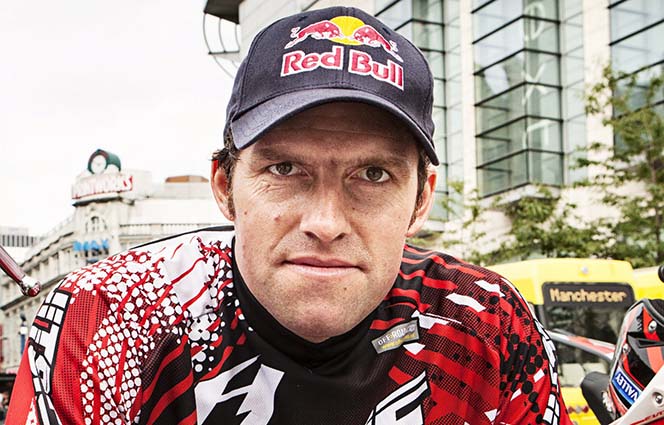 Today Red Bull athlete Dougie Lampkin begins a new chapter in his long and illustrious career, as he announces with immediate effect his relationship with a new company owned by a well-known Spanish trials fan and successful businessman. The resulting Vertigo project will see the emergence of an exciting new trials bike and brand in the not too distant future.

Twelve times FIM Trial World Champion Lampkin will be a key and integral part of the design and development of this new machine, that will not only have every day riders very much in mind, but will also have the potential of competing at the very highest level in the right hands as the project evolves further down the line.

In addition to his development duties Dougie will also still continue to compete in selected events such as the Scottish Six Days Trial, the Scott Trial and other prestigious competitions, as well as some extreme enduro events whilst still fulfilling his many other promotional activities and personal engagements.

Speaking about the recently signed two-year collaboration Lampkin said. "First of all I would like to thank the Gas Gas factory for their support over the last three years and especially John Shirt in the UK. Collectively we have achieved a lot including two more wins at the Scottish Six Days Trial."

"Like when I joined Gas Gas back in 2011, at this stage in my career it is important to have new challenges in order to maintain my motivation. I have known the owner of this new project for many years and whilst I can count him as a long standing friend and as a loyal fan of trials, most importantly he is a highly successful and serious businessman who shares the same desire as me to succeed."

"Having the opportunity to work on a project from the start is very exciting and one I am really looking forward to. There is a lot of work to be done, though I am sure that with the passion that exists within the team, we will be able to bring this to life and reach our targets." Ended Lampkin.

Adding his own comments the Vertigo founder stated. "For many years it has been my dream to create our own trials bike, and now with having Dougie join our team we have the best opportunity to bring this alive. He is a good man, a great rider and will bring all of his experience and expertise to this project. Together we have set some tough goals, however I am confident that we can achieve them over the coming months."

Further information regarding this new and exciting relationship will be issued in due course, with no date having yet been set for Dougie to make his debut appearance on the new Vertigo machine.