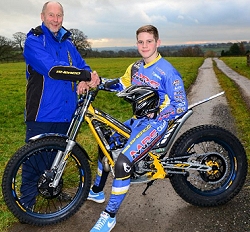 Sherco Importers Malcolm Rathmell Sport are delighted to announce the signing of the talented 15-year-old Tom Minta, who came second in the 2013 B-Class Championship. Tom will be moving up to the A Class British Championship this year and also intends to compete in the YMSA Championship and selected European and World Championship trials for the Youth Cup.
Tom, who is trained by MRS team rider Gary Macdonald will be training in Spain in the next few weeks and is hoping to be joined by his mentor Gary, who in turn has just announced he will be riding the British Championship this year, after a break of a few years. There will be a group of Sherco riders travelling to Spain, which will culminate in their riding the Santigosa Three Day Trial, a particular favourite of Tom's.
The line-up for youth class is looking very positive for MRS Sherco, and has certainly received massive interest since the introduction of their brand new 2014 125, which arrived in the UK last November. Sherco worked all last year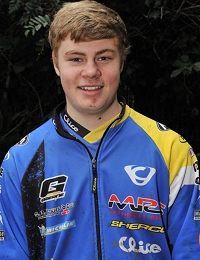 to make this brand new bike but, judging by the reaction of riders, it has been a job well done.
Established team rider, Tom Hooper, who is the present B Class Championship will also be moving to the A Class this year so it will be very interesting to see how these two very talented riders fair. MRS wish them both all the very best for the new season and will certainly be looking on with interest to see how they progress.
Another very talented young rider who has recently received a brand new 125 Sherco is Oliver Smith, son of the Oset boss Ian. Oliver has now moved off the Oset and is planning on riding the B Class Championship this year along with the YMSA events and local trials in his area down in Bexley-on-Sea. It will be good to see how Oliver adapts from the electric Oset, MRS are confident he will turn a few heads this season.


Photos courtesy of Trials UK Media & Barry Robinson