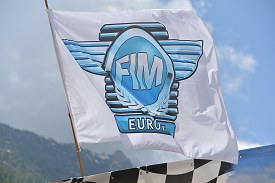 In a prequel to tomorrow's single day of World Championship Trials, today saw the small Italian ski resort of Alagna Valsesia play host to the second round of the 2014 FIM Europe Trial Championship (formerly UEM Championship). In the high-scoring main European Championship Class, Germany's Franz Kadlec - Beta took top honours with victory by ten points over Italian, Luca Cotone - Sherco, with Switzerland's Maxime Warenghien completing the podium line-up.
In the Junior Championship Class, Marcus Eliasson - Beta made his long trip from Sweden worthwhile by claiming top podium place by the narrow margin of just two points from young German Yannic Straub - Gas Gas with another German, Sascha Neumann - Gas Gas completing the top three in this class.
The International Class was dominated by the home Italian riders with nineteeen of the top twenty finishers being Italian nationals. Andrea Soulier - Sherco was top of the list by a twenty one point margin over countryman Raffaele Pizzini - Sherco and Top Trial Team's Michele Bosi taking third place.
Finally, the Over-40's Championship saw Finland's Jussi Happanen - Gas Gas take home the silverware with a twenty two point margin over Slovakian Vladimir Kotay - Osaa. Dutch rider John Van Veelen completed the top three in this class.
Full results are attached to this article.
Photo Coverage
Free Public Photos (10)