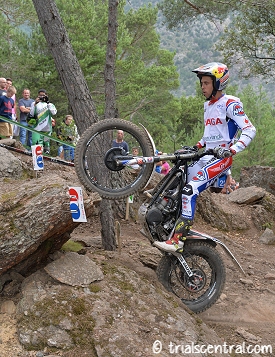 Adam Raga – Gas Gas completed the double at round seven of the 2015 FIM Trial World Championship as he took victory on the second day of the Grand Prix of Andorra held in the town of Sant Julia de Loria to follow on from the win he achieved just twenty-four hours earlier. This marked Raga's third triumph in a row as he again got the better of defending champion Toni Bou – Repsol Honda who had to contend with the runner's-up spot for the second time this weekend. Albert Cabestany – Sherco kept Bou honest and finished just two marks behind Toni as he made a welcome return to the podium. Despite his third straight defeat, Bou remains twenty-eight points clear of Raga at the head of the general standings.
The early morning cloud blocked the strong sun for a few hours at the start of the day, but when it finally appeared it was just as hot as the previous day and added another layer of difficulty to a course that saw two sections modified for the World Pro class and four changed hazards for the other two categories. Raga stole an early advantage over Bou as took a calculated dab on the huge step in section two after having watched his main rival fail just in front of him. This was one of only two marks Raga dropped on the opening lap against Toni's total of nine and Cabestany's tally of six, which for him included a five in the opening section of the day.
Raga saw his lead squeezed after he recorded a second lap of ten compared to the single five in section eight that Bou dropped on his second tour. Cabestany lost ground to the front runners at this stage as his second lap showing added fourteen marks to his overall score. Another five in the second hazard on his final visit sealed Bou's fate as he then had to ride the remainder of the third lap protecting his runners up position, which he duly did. Cabestany closed in on Bou, but eventually fell two marks short of demoting the reigning champion to the bottom step of the rostrum. Raga held his nerve brilliantly to collect his second win of the weekend and to continue his rich run of form.
Much further back Jeroni Fajardo – Beta took a distant fourth spot as Takahisa Fujinami – Repsol Honda improved on Saturday's eighth place to claim the final top five placing today. His young team mate Jaime Busto – Repsol Honda finished one mark ahead of Jorge Casales – Beta as the Spanish duo occupied sixth and seventh respectively. Alexandre Ferrer – Sherco, James Dabill – Vertigo and Franz Kadlec – Beta were the last riders inside the top ten in that order in the World Pro class.
Quentin Carles de Caudemberg – Beta notched up his fifth victory in the FIM Trial World Cup class after yet another closely fought day in this red hot division. Today the French series leader beat Spain's Oriol Noguera – Honda by a mere three marks as just ten marks separated the top five on this occasion. Italy's Filippo Locca – Beta recorded a career best third spot during what has otherwise been a disappointing season for him. Yesterday's runner up Gael Chatagno – Sherco was unable to make it back onto the rostrum as he placed fourth and just one mark in front of the final top five rider Iwan Roberts – Beta. Miquel Gelabert – Sherco might have won on Saturday, but could only manage sixth position today to lose further ground to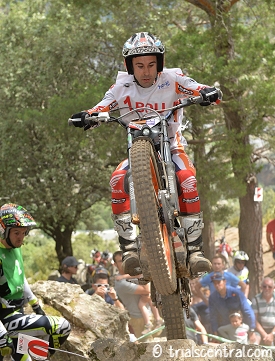 Carles de Caudemberg in the championship table. Carles de Caudemberg now enjoys a seventeen-point lead over Gelabert, with Noguera just one point back from his Spanish counterpart in the general standings heading into round seven.
Making it eleven wins from twelve starts in the FIM 125 Trial Cup, Marco Fioletti – Beta had to come from behind for a second day in a row to claim his latest victory. The young Italian rider now heads the general standings by a massive fifty-seven points such has been his domination of this class to date. In an almost direct copy of yesterday's battle it was again Jarmo Robrahn – Beta who held the lead for two laps before then giving way to Fioletti. Having lost out by a single mark twenty-four hours earlier Robrahn this time ended the day as runner up after being defeated by a margin of two marks. Spain's Gabriel Giro – Beta made it a repeat podium as he took third spot for the second time over the weekend. Maxime Varin – Scorpa remains second in the title race despite yet again missing out on a top three position as he placed fourth today and now has Robrahn closing him down in the points table.
The 2015 FIM Trial World Championship now pauses briefly before kicking back into action on the opposite side of the Atlantic when the USA will host round seven of the series on 25th / 26th July.
Results

World Championship Results

1. Adam Raga - 15

2. Toni Bou - 22

3. Albert Cabestany - 24

4. Jeroni Fajardo - 39

5. Takahisa Fujinami - 57

6. Jaime Busto - 61

7. Jorge Casales - 62

8. Alexandre Ferrer - 67

9. James Dabill - 77

10. Franz Kadlec - 78

11. Francesc Moret - 101

12. Eddie Karlsson - 111

13. Jack Sheppard - 115

14. Hakon Pedersen - 134

Pol Tarres - Retired

pdf Download Full Results (87 KB)

World Cup Results

1. Quentin Carles de Caudemberg - 17

2. Oriol Noguera - 20

3. Filippo Locca - 25

4. Gael Chatagno - 26

5. Iwan Roberts - 27

6. Miquel Gelabert - 30

7. Benoit Bincaz - 32 (27 cleans)

8. Jack Price - 32 (26 cleans)

9. Billy Bolt - 33

10. Marc Riba - 41

11. Arnau Farre - 44

12. Luca Petrella - 48

13. Bryan Roper - 53

14. Andrew Putt - 54

15. Dan Peace - 63

pdf Download Full Results (104 KB)

125CC Championship Results

1. Marco Fioletti - 14

2. Jarmo Rorahn - 16

3. Gabriel Giro - 24

4. Maxime Varin - 39

5. Axel De La Mata - 67

6. Christopher Wengler - 102

pdf Download Full Results (61 KB)
Photo Coverage
Trials Central Supporters - Access to over 180 images from the second day of action in Andorra by clicking here - Supporters photo coverage is high resolution and images do not carry watermarks.
Free Public Gallery