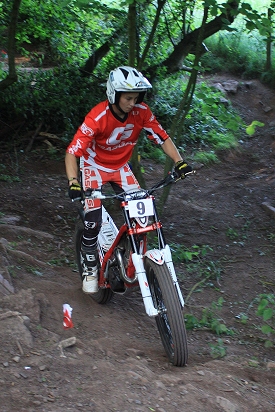 Josh Bawden in action at BewdleyBewdley MCC ran the third and final round of their Clubman and Beginners Trial Series at Birchwood Farm, Shatterford and for the third successive trial, was blessed with a fine and dry evening. Once again the club received a large entry for the event, with sections laid out amongst the trees and on the sandy banks of this popular venue.
Riding the Hard Route and returning zero scores were adult riders Shane Harvey (Gas Gas), Jim Pickering (Drayton Bantam) and Jeremy Price (Beta). But it was Price who surprised everyone. After a five year lay-off, the Stourport on Severn rider showed he had lost none of his skills and made it a tie for top spot on the podium. The fourth rider to go clean throughout the trial was Youth competitor Josh Bawden (Gas Gas), who made it a trio of event cleans and must have a bright future in the sport. Pushing the top four throughout the the event and just dropping a single mark each, were Intermediate rider James Beddoes (Gas Gas) and Bewdley Schoolboy club member, Joel Tett (Beta).
The Medium Route provided Michael Wilding (Montesa), with a clear nine mark win over the ever improving Les Richardson (Drayton Bantam), but it could not have been closer for the three following finishers, Keil McPhillips (Gas Gas), Ben Martin (OSSA) and Kaleb Moriaty-Dorrell (Gas Gas). Riding head to head all evening it was nip and tuck between all three. Mc Phillips gained a one mark advantage mid trial over Martin, who in turn gained a one mark advantage over Moriaty-Dorell. The sixth leader board position was claimed by Neil Brown (Montesa), but only after a tie break. Brown cleaned some twenty one sections, to the thirteen of Richard Dorell (Beta).
It was Schoolboys at the front in the Beginners class, with Ethan Richardson (OSET) gaining a decisive win over Oscar Pattinson (OSET), third finisher Harley Lewis (Bete) and the ever improving Myles Greenwood (Beta). Over 40's competitor Steve Mann, following a switch from four wheeled trials to two and riding only his third trial, finished in a very creditable fifth position, three marks in front of schoolboy Zach Reynolds (OSET).