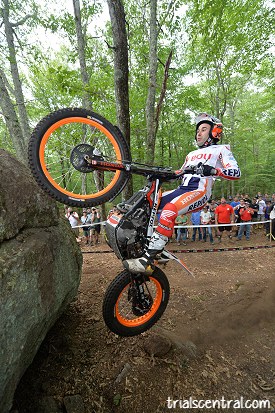 Normal service was resumed as Toni Bou – Repsol Honda made it back-to- back wins at the latest round of the 2015 FIM Trial World Championship held at Stepping Stones Ranch, USA. In almost a repeat of twenty-four hours earlier, Bou was again the dominant force as he left even his closest rivals with no answers to take the victory on this occasion by twenty-four marks from runner up Adam Raga – Gas Gas for the second day running. Toni now holds a thirty-four point cushion in the general standings with just two GP events remaining. Jeroni Fajardo – Beta bounced back from his relatively poor showing on Saturday to take the final podium place on day two.
Although Saturday's sunshine never returned, today's cloudy skies only provided very light rainfall early in the day with conditions out on the course still being very hot and humid and greasy in places as had been the case on the previous day. With many riders having fallen foul to time penalties on day one, today's Trial was conducted at a much higher tempo and as such the overall time limit was much less of factor on the second day.
Bou set out his stall from the start for the second day in a row and by the end of lap one had already carved out a ten mark advantage over Raga, who himself was under pressure from Fajardo only two marks further back at this early stage. Again Toni increased his margin of authority over the remaining two laps to run out an easy winner on day two and to claim the famous Wagner Cup for his overall GP victory. Raga managed to fend off Fajardo come the finish and take the runners up spot twice on the trot to consolidate his position in the series standings.
Albert Cabestany – Sherco collected his second fourth position of the weekend, but this time by just two marks from fifth placed Takahisa Fujinami – Repsol Honda who was at least happy to return to the top five today. Rookie Jaime Busto – Repsol Honda recovered sufficiently from a mild bout of food poisoning to take sixth ahead of yesterday's podium finisher Jorge Casales – Beta who could only manage seventh place today. James Dabill – Vertigo ended up eighth as Alexandre Ferrer – Sherco and Eddie Karlsson were the last two top ten finishers respectively in the World Pro class on the closing day of the US GP.
Benoit Bincaz – Scorpa was the winner in the FIM Trial World Cup on day two as he produced three strong laps to edge out Miquel Gelabert – Sherco by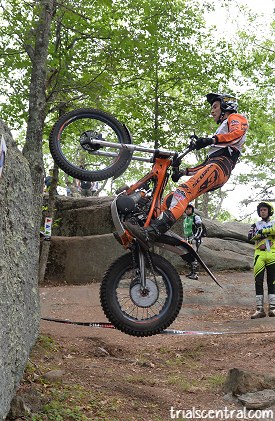 four marks come the finish. This marked Bincaz's first victory since he won both days of the opening round in Japan. Arnau Farre – Gas Gas ended the day a further three marks back from Gelabert as just eleven marks separated today's top six. Eventual fourth placed Jack Price – Gas Gas was the leader after two laps, but endured a torrid final lap to prevent him making it two wins in two days. Oriol Noguera – Honda and Iwan Roberts – Beta completed the top six respectively, both being within touching distance of a rostrum position. Gelabert now heads the general standings by a single point after previous series leader Quentin Carles de Caudemberg – Beta suffered his second poor showing of the weekend to finish down in tenth place on day two.
The first of this season's champions were crowned as Marco Fioletti – Beta became the winner of the FIM 125 Trial Cup outright following his untouchable victory on the second day of the US GP. The Italian rider won by a clear thirty-three marks today to take the title with four counting days and two rounds still to go. Marco now has a lead of sixty-three points in the general standings, and when taking into consideration disregarding the worst two results as is the case in this class, he can now not be caught by his nearest rival Maxime Varin – Scorpa who again finished as runner up today and is also assured of second place in the series overall irrespective of what happens at the final two events.
With seven of nine rounds completed the 2015 FIM Trial World Championship will now embark on its annual summer hiatus before recommencing in early September for the final two back to back encounters in Portugal and Spain to bring the season to its climax.
Results

World Championship Results

1. Toni Bou - 26

2. Adam Raga - 50

3. Jeroni Fajardo - 55

4. Albert Cabestany - 79

5. Takahisa Fujinami - 81

6. Jaime Busto - 83

7. Jorge Casales - 85

8. James Dabill - 91

9. Alexandre Ferrer - 101

10. Eddie Karlsson - 114

11. Franz Kadlec - 123

12. Jack Sheppard - 140

pdf Download Full Results (80 KB)

Download Championship Standings

World Cup Results

1. Benoit Bincaz - 24

2. Miquel Gelabert - 28

3. Arnau Farre - 31

4. Jack Price - 32

5. Oriol Noguera - 33

6. Iwan Roberts - 35

7. Bryan Roper - 54

8. Andrew Putt - 61

9. Filippo Loca - 68

10. Quentin Carles de Caudemberg - 70

pdf Download Full Results (88 KB)

125CC Championship Results

1. Marco Fioletti - 8

2. Maxime Varin - 41

pdf Download Full Results (55 KB)
Photo Coverage
Trials Central Supporters - over 130 images from day two of USA world Trial can be accessed by clicking here. Supporters photo coverage images are high resolution and do not carry watermarks.
Free Gallery