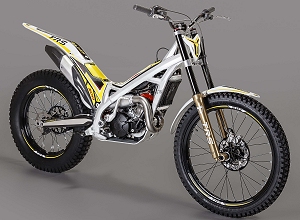 TRS, the new trial brand produced in association with Trial legend, Jordi Tarres, announced its inception at the end of 2013 and is now, after two long years of development, the company is ready to begin production with the new trial model - TRS ONE which will be available in three displacements, 300, 280 and 250 cc.

During thetwo years prior to the presentation of the bike, the TRS engineers and technical crew have used support from all kind of professionals to ensure the right and proper evolution, reliability and quality of the model itself.

TRS will soon start production at their industrial facilities in Sant Fruitós del Bages (Barcelona), where the company also has the R & D department and from where the bikes and other related products will be supplied to the domestic market and the rest of the world (North and South America, Europe as a whole, Japan and Australia).

TRS has made a timely arrival during a tumultuous period in the world of Trial in general terms and some brands in particular, but the company has a full business plan for both their products and their sporting activity.

Jori Tarres: "TRS was born thanks to our passion for Trial and experience accumulated over more than 30 years. Due to the size of the project, we decided to work with lot of care since its conception, design and industrialization using always the best and most advanced technologies.

We have achieved our goal, a compact and light motorcycle in terms of weight, with the necessary reliability and robustness to fight against any kind of obstacle.

We have managed to supply a new and different feeling when riding it, due to its geometry and suspension, becoming a real attractive and easy adaptation for al kind of riders regardless of their level.

65 kg. offer a real feeling of lightness without damaging stability and giving the real possibility to climb up to the top. The engine has been developed and designed specifically for the practice of trial, taking into consideration each and every single part of it to ensure the best performance and maximum power, and placing inside numerous technical improvements that make it unique in the market.

We have brought the bike at the highest level of "stress" during the time of developement and testing, to ensure the best success when reaching the market.

TRS ONE has exceeded the actual and common standards in terms of technology and style, showing the best performance, an extraordinary style and an exceptional behavior."
Technical specifications can be found below the Image Gallery & Video.
Image Gallery
Video
Technical Specifications
ENGINE: Single cylinder 2 stroke.

Displacement: 294,1cc - 272,2 cc - 247,7 cc.
Cooling system: Liquid cooled.
Diameter & stroke: 79x60 mm (300 cc) - 76x60 mm (280 cc) - 72,5x60 mm (250 cc).
Ignition: New HIDRIA CDI (double spark).
Clutch: 3 disks diaphragm TRS hydraulic system.
Gear box: 5 speed.
Engine oil capacity: GRO W75 350cc.
Transmission: Chain.
Petrol: 2,3L Petrol 98 2T oil 1,5%.
Carburator: Dellorto PHBL26 Reed valve admission.
Starting: Kick to primary transmission (Kickstart).
Air filter: Foam.
Spark: NGK-R BPMR6A.
FRAME: Twin spar forged aluminum frame.

Swing arm: Aluminum.
Front suspension: 39mm, 175mm Aluminum Tech 39 mm diameter, 175 mm str.
Setting: Adjustable spring extension & preload.
Rear suspension: Progressive R16V hydraulic system.
Setting: Spring preload and extension.
Stroke - travel: 168mm/ Rear wheel stroke 168 mm.
Wheel: Llanta de aluminio Morad aluminum radiated wheel.
Front wheel - tyre: 1.6x21 Michelin X11 Trial 2.75x21.
Rear wheel - tyre: 2.15x18 Michelin X11 Trial 4.00x18 TL.
Front brake: Disk 185mm pinza 4 BRAKTEC
Rear brake: Disk 150mm clamp 2 pistons BRAKTEC.
Net weight: 65Kg.
Dimensions: 2.015 x 830 x 1.125mm (length x width x height).
Seat height: 640mm
Engine protector: 7075 Aluminum.
Foot rest: Adjustable