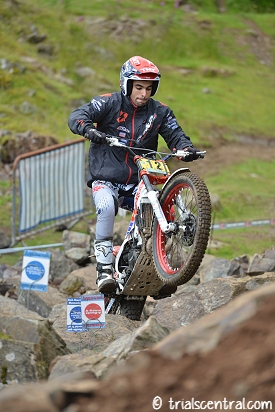 Whilst today will most likely be remembered as the day that James Dabill – Vertigo sealed his sixth British Trials Championship title, it would be unfair to allow that to detract from the achievement of young Spanish Rider Jorge Casales – Beta who took victory on the first of two days of competition at the highly praised Bob MacGregor Trials Academy in Ayrshire, Scotland. Dabill had to settle for second place on the day with youngster, Billy Bolt – Scorpa completing the podium line-up.
From the opening lap of the Trial there was never any doubt that Casales, who has only recently returned to top level Trials following an injury early in the season, was set to dominate the event. This was particularly apparent after Championship leader, Dabill opened his scorecard with two fives on the first two sections of the day. These along with further fives in the tough seventh and eighth sections put the Vertigo factory rider on a first lap score of twenty one and in third place after Bolt recorded an opening lap score of sixteen to put him in second place, just four marks behind Casales
Now in his stride, the Spanish visitor turned in his best lap score of the day on his second outing, dropping just eleven marks and clearly undeterred by the typically Scottish heavy rain that descended mid-afternoon. With an uphill struggle on his hands, Dabill did manage to up his game, also recording his best lap with a score of thirteen to leave him eleven points to make up on the final lap if he was to once again stand on the top step of the podium. Bolt, on the other hand, did the opposite and turned in his worst lap score of twenty two after dropping marks on several sections he'd ridden clean on his first visit, possibly due to the afternoon rain making the riding very slippery in places.
The third and final lap of twelve sections provided no surprises as Casales rode confidently to victory with a lap score of thirteen to Dabill's eighteen and Bolt's sixteen to put him on a final score of thirty six with Dabill sixteen adrift on fifty two and Bolt just two behind Dabill on fifty four.
In the Expert Class it was Dan Thorpe – Gas Gas who took top spot after an interesting battle with Jonny Starmer – Beta and Tom Hooper – Sherco finishing third.
Over in the Youth Class, Toby Martyn – Beta made the long journey North worthwhile with a ten mark victory over Scarborough's Jack Peace – Gas Gas. The difference in skill levels between these two young competitors and the remainder of the class is clearly apparent with Sam Johnson claiming a worthy third place no less than sixty two marks behind Peace and seventy two behind Martyn.
The British Championship continues in Scotland tomorrow with the second day of competition North of the border and Clerk of the Course, Sandy Mack, not only promising some changes, but also some totally new sections for day two.
pdf Download Championship Class Results (70 KB)
pdf Download Expert Class Results (22 KB)
pdf Download Youth Class Results (17 KB)
Photo Coverage
Trials Central Supporters can access a gallery of over 170 images from day one in Scotland, high resolution and without watermarks by clicking here
Free Public Gallery