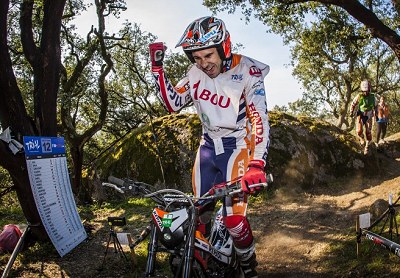 The Repsol Honda Trial Team is already celebrating Toni Bou's triumph in Paços de Ferreira in spite of still having one GP to go before the season winds up next weekend. It was made all the more special thanks to a hard-fought battle throughout the season with Bou's arch-adversary, who constantly hounded at the champion's heels and forced him to ride at an even higher level.
Portugal was witness to a two-day display of extraordinary riding in which Bou kept the marks low, minimized errors, stayed in control and finished on top of the rostrum. After scoring six penalty points on the first lap, the crowd were treated to a flawless, mark-free exhibition.
Toni Bou's success almost eclipsed the great performance of fellow Repsol Honda Team buddy Jaime Busto, who for a second day running, looked like grabbing a podium place, narrowly missing the target by just one mark. The Basque youngster rode a very fluid trial and after the first two laps was battling for a place on the podium, a place that will surely arrive given the rookie's class and ambition.
Takahisa Fujinami once again spent the trial battling as much with lower-back pains as he did with the sections. This handicap stopped the Japanese rider from achieving his aims, finishing ninth on the day but holding fifth position in the overall standings.
Repsol Honda Team's next outing comes in just a week's time with the Spanish Trial GP, the last of the world championship calendar in 2015, set to take place in Teo (La Coruña).
| | |
| --- | --- |
| | Nine titles! I'm really pleased. Today it seemed that the trial would have been more complicated but in the end it was quite an easy one. These victories in easier trials are really important for boosting morale and as I said before, the high level of the rivals forced me to raise my game. I want to thank my folk, my parents, my girlfriend and all the team members who have worked so hard to help achieve this title. Thanks a lot to all. |
| | Today I tried to make up for the result yesterday but I continued to have a lot of back trouble. It was a bit frustrating because I couldn't manage to improve on yesterday's points in most of the sections. I only hope that I am able to recover this week to be able to finish the year off well and get this bad result behind me. |
| | It was a really tight one, but I picked up a fault in section two and I just missed out on the podium. It was a pity because I felt great today and I would have loved to have accompanied Toni onto the podium. I've had really good feelings all weekend on the Montesa Cota 4RT and I think that it has shown in my riding and in the results. There's still one event left this year to try and make it onto the podium. |