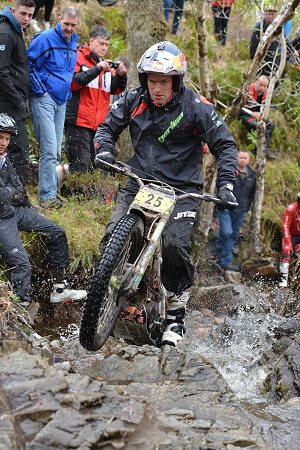 History was made once again as the 2016 Scottish Six Days Trial (SSDT) came to close with Dougie Lampkin - Vertigo sealing an unprecedented and record extending tenth win in this World famous event. Lampkin took a six-mark lead into the final day and looked well in command having only parted with a single dab before arriving at the much revered sections on Ben Nevis. Riding at the front of the field Dougie faced an incredibly tough and tense task as he battled his way through the remaining slippery hazards for the loss of a further four marks.
Lampkin's total of five on the day proved to be Saturday's best performance as his main rival Michael Brown - Gas Gas failed to capitalise on his late starting position that meant the sections were in much better shape by the time he arrived at the two decisive groups ahead of the final test back in the centre of Fort William. Brown's score of eight for the day was enough to secure him the runners up spot overall, nine marks back from Lampkin, but still six marks in front of third placed James Dabill - Vertigo who matched Michael's tally on the last day.
Former Youth World Champion Jack Sheppard - Beta rounded off what has been his best week in the Scottish Highlands with yet another strong showing, his seven-mark total on day six saw him claim a well-deserved fourth spot overall. Sam Haslam - Gas Gas out-rode his team mate Alexz Wigg - Gas Gas on the final day to end the week four points clear of his friend and rival as this southern based pairing secured fifth and sixth spots respectively.
The southern theme continued in seventh place too, with previous SSDT winner Sam Connor - Beta moving up two places on the last day of the competition much thanks to a solid closing performance. His late success was at the expense of local representative Gary MacDonald - Scorpa who eventually ended up in perhaps a slightly disappointing eighth place after having threatened the higher order earlier in the week. It was a similar kind of story for Monday's leader Joe Baker - Sherco who slipped to ninth position overall come the finish, leaving Tom Sagar - Sherco to round out the top ten rankings.
Young Tom Hooper – Sherco signed off on an outstanding SSDT debut by claiming twentieth place overall and easily winning the award for best newcomer despite riding a small capacity bike in what is still regarded as one of the toughest events in the trials calendar. Equally impressive was the performance of reigning FIM Women's Trial World Champion, Emma Bristow – Sherco who sealed forty second place overall whilst also dominating the fight to be the best female rider by a huge margin.
Gary MacDonald ended the week as the highest placed Scottish rider, which was hopefully some consolation for his final position overall. Fitting, it was Dougie Lampkin who added the best over 40 award to his main prize to reinforce the scale of his achievement. Dougie's tenth SSDT victory coming a little over a month after the sad passing of his father Martin, who was a former three times winner of the Scottish himself, and whom will have been heavily in Dougie's thoughts throughout what has been an extraordinary week for the veteran champion even by his standards.
Download 2016 Scottish Six Days Trial Awards
Download 2016 Scottish Six Days Trial Final Results
Download Day Six Provisional Results (Revised 9th May)
Photo coverage
From the final day of the 2016 SSDT, for our Trials Central Supporters it's circa 160 hi-res and unwatermarked images from the sections at Lower Mamore and then up to Leanachen before heading to the finish. Access by clicking here
Trials Central Supporters Day Five Gallery (340 images)
Trials Central Supporters Day Four Gallery (260 images)
Trials Central Supporters Day Three Gallery (225 images)
Trials Central Supporters Day Two Gallery (240 images)
Trials Central Supporters Day One Gallery (255 images)
Trials Central Supporters Day Zero Gallery (200 images)
Free Public Gallery