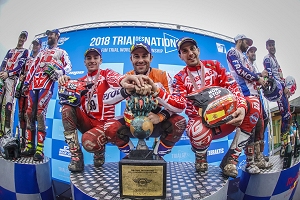 Spain stormed to a fantastic fifteenth consecutive FIM Trial des Nations victory today at a wet, wild and spectacular Sokolov venue in the Czech Republic with their three-man team of Toni Bou - Repsol Honda and Gas Gas team-mates Jeroni Fajardo and Jaime Busto reigning supreme in the Men's World Championship category.
It was a much closer-fought affair in the Women's TDN class where, competing alongside the men for the first time in the competition's rich and illustrious history, Great Britain's Emma Bristow - Sherco, Donna Fox - Montesa and Jess Brown - Scorpa regained the title they lost last year to Spain.
With the best two scores through each section counting towards a country's result, riders from twenty-three nations faced a mixture of man-made hazards featuring huge boulders and more natural terrain in nearby woods where grip was at a minimum. Day-long torrential rain and plunging temperatures added to the drama and forced organisers to modify the sections as the event became a war of attrition. The Spanish men initially got off to a slow start and actually trailed the French trio of Benoit Bincaz - Scorpa, Alexandre Ferrer - Sherco and Loris Gubian - Gas Gas after the first four sections, but when the going got tough then Bou and Co got going.
While the Spanish demonstrated their clear superiority to lead the field, Great Britain, France and Japan went toe-to-toe for the remaining podium positions with the balance swinging in each nations' favour as the Trial progressed. Following the opening lap Spain's total of just twenty gave them a clear advantage, even after nineteen time penalties were added to their total. France were second with fifty-one on observation and five on time followed by Great Britain's James Dabill - Beta, Jack Price - Gas Gas and Toby Martyn - Montesa who had parted with fifty-six marks in the sections and collected eight time penalties. The Japanese trio of Takahisa Fujinami - Repsol Honda, Kenichi Kuroyama - Yamaha and Tomoyuki Ogawa - Montesa had dropped fifty-three, but picked up twenty time penalties, which put them fourth.
On the second lap Spain extended their advantage as Great Britain, revelling in the UK-style conditions, picked up the pace to secure the second step of the podium by eleven marks from France as Japan struggled to get to grips with the deteriorating conditions and their challenge fell away. Italy ended the day a distant fifth ahead of Norway and Germany. "Yesterday Jaime got injured in the training area," said Jeroni Fajardo, "but this morning we started not so bad until I strained my back in section three. We were suffering a little bit, but then everything came together for us."
With the defending Women's champions fielding Sandra Gomez - Gas Gas, Berta Abellan - Vertigo and Neus Murcia - Beta it was always going to be a fierce contest with the British Lionesses leading by just five marks at the halfway stage before pulling clear on lap two to record a hard-earned twelve-mark victory. "We definitely pulled together as a team," said Bristow. "We're just so happy and there's been such a great team spirit. We've worked so well together and it's great to get the trophy back." Germany's Theresa Bauml - Montesa, Vivian Wachs - Gas Gas and Ina Wilde - Gas Gas came home a comfortable third ahead of Norway and Italy.
In the Men's International Trophy it was the Czech team of Dominik Wunsch - Gas Gas, Martin Matejicek - Gas Gas and Martin Kroustek - TRRS who took a hugely-popular home win with a comfortable thirty-eight-mark victory over the United States team of Patrick Smage - Sherco, Samuel Fastle - Sherco and Daniel Blanc Gonnet - Gas Gas. Austria's Philipp Doeller - Beta, Marco Mempoer - Beta and Jonas Widschwendter - TRRS took third while defending champions Australia slipped to a disappointing sixth behind Belgium and Ireland.
pdf Download Full World Championship Class Results (347 KB)
pdf Download Full International Class Results (362 KB)
pdf Download Full Womens TdN Results (353 KB)
Images P. Segales