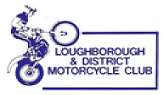 After 30 years of involvement and 25 years running the show the backbone of Loughborough Trials Club has decided it's time to put his feet up and that the team that has been supporting him over the last few years are now ready for the next stage of development of the club. Richard Hodges has been the driving force behind the club over all this time and the only reason the club has survived. Fortunately a small band of willing helpers have been supporting Richard for the last few years and with his guidance the club has gone from strength to strength with its annual Susan Harris memorial trial one of the "must do" events in the East Midland Centre.
Richard, having guided this small band has decided it's time to step down now he is confident the team can continue to make sure the club he has served for so long can survive and grow. From the beginning of October Gary Shield, Harold Jones and Peter Jones will take on the formal duties from Richard with club press officer Gary Kirtley-Paine adding the role of Chairman to his duties. The club will be holding an AGM in the new year and any members who would like to put themselves forward to replace any of the roles of the interim committee will be entitled to do so.
All members of the Loughborough Trials Club know just how much Richard has done to keep the club going and to see it develop to where it is today. Those members are all in debt to Richard and wish him well for the future and join together to say "Thank You" for everything he has done over the last 30 years.