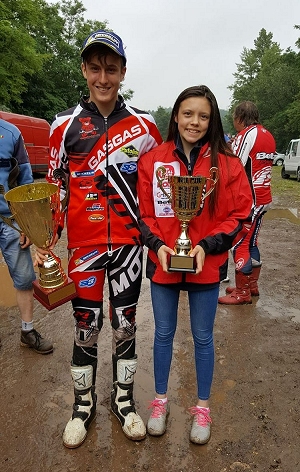 6 riders made a long trip to Poland, to the town of Krzeszowice for the 2 day event women's and youth European championship rounds 2 & 3.
Alicia Robinson - Top Trial Team Beta - international route
Gabby Whitam - Inch Perfect Richtoy Beta - international route
Charlotte Kimber - Parkwood Off-road Beta - international route
Jennifer Stephen - gas gas - international route
Victoria Payne - Active MRS sherco - women's championship route
Jack Peace - JST/Cloburn gas gas - youth championship
Round 2:
Walking the sections on the Friday in 30 degrees sunshine, then come Saturday with an early morning thunderstorm which made the going very slippery for Lap 1. By lap 2, it dried up and the sections were in pristine condition. But the temperature rising to above 30 degrees tested the rider and machine. But the best came from Alicia Robinson winning the women's international class and Jack Peace who won the youth championship class. With Victoria Payne just missing out on the top 10 in her class. Gabby Whitham just missing the podium in 4th position, with Charlotte Kimber and Jen Stephen not far behind in the international class.
Round 3:
Day 2 started off with lovely sunshine and with a few alterations to the sections from day 1 meant the sections were riding really well. Most riders were pushing on as there was a chance of rain, which would make the sections very tough, as there was some very steep bankings dropping down onto rocks. Then came mid day, with a treacherous thunder and lightning storm, which put the riders at risk and resulted in lap 2 being cancelled, so the results were taken from lap 1. This made the results very close, with Jack winning his class again by only 1 mark, and Alicia winning her class by most cleans. Another great result from Victoria Payne, coming just outside the top 10. Once again gabby just missed the podium by a couple of marks, and Charlotte and Jen taking 5th and 6th places. What a successful weekend from the Brits.
Results from both days of competition can be found here
Report:Stu Robinson