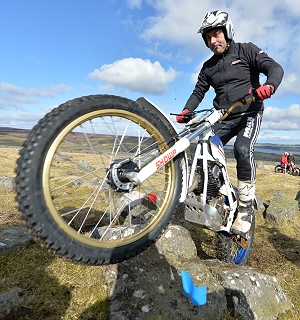 For the second year in a row, the Castleside Trials Club, led by Ossy Byers and Steven Robson hosted a KIA Championship Round at Lambshields Farm above Edmundbyers in perfect weather. A clear, sunny day gave the 115 starters fantastic views over the moors as they tackled 2 laps of a 5 mile course. The 20 sections could not have been more varied, with rocks, a hillclimb, gullies, streams and awkward traverses all linked by a tricky ride over the grouse moor. With most of the manufacturers from the 70's and 80's represented, the range of machinery ridden was vast, and went from a tiny SWM 50 through to huge Triumph 500's, with all capacities in between.

On the day there were some outstanding rides in all categories, with Best Expert going to Stephen Larkin (Yamaha 250 Mono), and Best Clubman Jim Tennant (James 250). Both riders lost a single mark on the tricky section 10.

Class winners on the day were Stephen Larkin (Mono Exp), Nathan Hanley (Mono Club), Garyy Younghusband (Historic Spanish Exp), Robin Oliphant (Historic Spanish Club), Chris Forshaw (T/S Exp), David Braithwaite (T/S Club), Yrjo Vesterinen (Britshock Exp), Jim Tennant (Britshock Club).

The KIA Championship has rounds all over the country, with this particular round being the most northern. The most southerly round takes place in Devon in mid-September, organised by Torridge & DMCC who are hosting yet another new venue for the Championship. Details of all remaining rounds and entry forms can be found at www.twinshockchampionship.org.uk.
Visit our Trials Central gallery of images from this event by clicking here
pdf Download Full Results (40 KB)