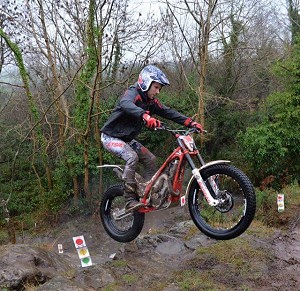 Harold McQuaid in action
Image: Philip HanlonSaturday 26th December saw the Ards Motorcycle Club running their annual Boxing Day trial. The trial has been held at the Leadmines for over 50 years and is one of the most looked forward to events in the calendar. George, Robbie, Phillip and Colin, assisted by other volunteers set out a fantastic course offering 12 sections over 3 laps of the Leadmines and adjoining land. A fair bit of effort went into this, with some totally new sections to test the riders
A total of 93 riders turned up to compete, including 11 youth riders and it was obvious quite a few of them had been good throughout the year as Santa had been busy with new bikes in abundance!!
The trial started in quite balmy conditions which was a pleasant surprise given all the rain of the previous week! The rain though did arrive for the final lap and this certainly changed the conditions in some of the sections!!
All grades were catered for and there was much anticipation to see if any of the contenders in the Expert Elite grade could battle with Harold McQuaid who was unbeaten all year and a multiple previous winner of the event. It turned out to be a tight battle over the three laps between McQuaid and young Stuart McClurg, they were tied on 1 single penalty each after the first lap with Jonny Lunney third on 6. The second lap saw Harold hold his nerve to drop 1 further penalty, while Stuart dropped 3, but kept second, while Chris Brown swapped third with Jonny with a great second lap. Harold maintained his cool to post a final lap of a single penalty again, finishing the trial on 3 marks lost. Stuart secured second place with a final lap of 6 to finish on a total of 10 marks lost. Chris just held off the pack to finish on 25 marks lost tied with Andy Perry, but count back saw him getting third place.
In the Expert grade this was expected to be a much closer battle between quite a few regular riders. The spanner in the works though was the appearance of Harold Crawford. Crawford, a past winner of the event on more than one occasion, hasn't ridden trials competitively for quite a while and he was riding a borrowed bike, but he showed he has lost none of his ability!! After the first lap young Josh Hanlon was first on 8 with William Dickey second on 11, followed by Harry on 13. Onto lap two and Josh still kept the others at bay, but only just, 19 with Harry now in second on 23, with William next on 25. The final lap showed though that Harry had kept his cool, posting a lap of 6 to take the win on a total of 29. William too posted a great lap of 7 to overtake Josh into second on 32. Josh took third on 33 after a lap of 14.
In the semi expert grade it was another tight battle between Jonny Hagan, Matt Millar and Neil Moore. After lap one Jonny was ahead of Matt with Neil third. Matt and Jonny swapped places after lap two and on the final lap Jonny posted a lap of 4 to take the win on 17, Matt held on to take second on 20, while Neil took third on 22.
In the Clubman grade any one of about ten riders could have been in with a shout of the win. After the first lap Phillip McClurg and Terry McKee were "clean" with Warren McKee next on a single penalty. Steven Cromie, Ulster and Irish champion in this grade, took a slack five on section 11 to drop him down the order. On the second lap Phillip dropped 1 mark, while Terry dropped 2, Steven also dropped 1 to take third place. On the last lap Philip again went clean taking first on a total of 1, Terry again dropped 2 to take second on 4, while Steven held on with 3 to take third on 9 marks lost. Ride of the day in the grade goes to Andy Higgins, after posting a poor first lap of 12 he rode the final two laps faultlessly to take fourth on 12!!!
In the Sportsman grade again it was a battle Royale!! Three riders fought all the way for the win. David Glasgow, Ian Boyd and Eric Davidson competed for the win the whole trial and only a single dab by Eric on the second last section of the final lap saw him miss out on the win! David and Ian took the win together as they could not be separated having gone faultless the whole day, Eric took third with his single penalty!!
In the 450/ twinshock grade Stephen Murphy took the win with a faultless display, no penalties incurred all day. Next in second was Stuart Hanlon on 3 marks followed by Martin Drennan on 9 marks.
In Youth A Matthew Millar and George Taylor battled closely all day, Matthew's second lap score of 5 was the difference though. This helped him take the win on 34 to George in second on 51.
In Youth B Reece Gazzard showed the skill that led to him being crowned British Champion earlier this year to take the win. He finished on a score of 5, next was promising newcomer Callum McAllister on a commendable 26 with Josh Pyper just beating his cousin Jay to third with a score of 40!
In Youth C on the main course Stuart Lappin was the winner on 24 marks
Finally in Youth C Adam Reid rode well all day to hold off Ryan Thompson for the win, it was a tight thing though with Adam finishing on 20 to Ryan's 23!
There was also the Traders Trophy prize, which is contested by teams of three riders from each club. Their combined placings decides who gets the coveted trophy!
This years winners were the Knock Motorcycle Club A team of Harold McQuaid, Stephen Murphy and Chris Brown. Second went to the Moto Trial NI team of Steven Cromie, Terry McKee and Warren McKee. Third place went to the Knock B team of Martin Drennan, Neil Moore and Andy Ellis.
Results
Expert Elite
1. Harold McQuaid 3
2. Stuart McClurg 10
3. Chris Brown 25
Expert
1. Harold Crawford 29
2. William Dickey 32
3. Josh Hanlon 33
Semi Expert
1. Jonny Hagan 17
2. Matt Millar 20
3. Neil Moore 22
Clubman
1. Phillip McClurg 1
2. Terry McKee 4
3. Steven Cromie 9
Sportsman
1. David Glasgow 0
1. Ian Boyd 0
3. Eric Davidson 1
450/ twinshocks
1. Stephen Murphy 0
2. Stuart Hanlon 3
3. Martin Drennan 9
Youth A
1. Matthew Millar 34
2. George Taylor 51
Youth B
1. Reece Gazzard 5
2. Callum McAllister 26
3. Josh Pyper 40
Youth C (main course)
1. Stuart Lappin 24
Youth C
1. Adam Reid 20
2. Ryan Thompson 23
The Ards MCC Club would like to thank all the riders for turning up and supporting the event, the observers for giving up their day to help out, to the council and all the adjoining landowners for access to their land most importantly to Barry for taking the entries and compiling the results!
pdf Download Full Results (395 KB)