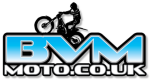 BVM Moto are pleased to announce that their popular annual test day will be back for 2018 on Wednesday the 28th of November at Breakheart Quarry near Dursley. The postcode for the venue is GL11 6AD, but please be careful when using Sat Navs in this rural area. The Event will be signed posted off the A4135 Dursley to Tetbury Road.
2019 model bikes have been confirmed from Beta, GasGas, Sherco, Scorpa, TRS and Vertigo Starting from 9.15AM, customers will have a 15 minute ride on the bike of their choice. The same system will be in place as in previous years, which allows a rider to turn up on the day, sign on for one ride on their chosen bike and then return to the sign on room afterwards to book a second and so on. The last rides are normally around 3.45pm. Riders will be required to fill in an entry form before they are allowed to book a ride. These can be printed here and should be filled out in advance where possible as this will save a bit of time on the day.
Please note, all riders must wear helmets and boots, when testing the bikes and as this is a test day and not a practice day, please do not bring your own bikes to ride. This is a condition of the event insurance.