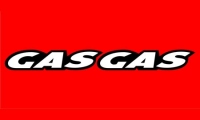 Gas Gas are pleased to announce information on the new 2013 GAS GAS PRO models which will arrive soon.
There are some welcome refinements for 2013 to keep the GG PRO as one of the market leading Trials machines.
A very welcome change is the gear selector shaft can now be changed without removing the engine and splitting the crankcases so if you smash the gear lever and damage the shaft it can now be changed easily. There is also reinforced 1st and 3rd gears.
New design kickstart
Also a return to AJP brakes and clutch master cylinder.
Cool new 2013 graphics with the latest GAS GAS logo to compliment the red frame.
The frame has slight modifications to strengthen the top shock mount and also underneath to protect the linkage.
The standard bikes will feature Marzocchi forks and Sachs rear shock as normal.
Other refinements include new titanium front pipe, tank cap and grips.
Better sealing on the airbox and airbox cover.
To summarize the 2013 changes;
New quick change gear selector shaft

New reinforced 1st and 3rd gears

AJP brake calipers

AJP front brake master cylinder

AJP clutch master cylinder

New 2013 graphics with latest GAS GAS logo

New titanium front exhaust

New design kickstart

Strengthened top shock mount

Better frame protection for rear linkage

Better sealing on airbox and cover

New handlebar grips

New petrol tank cap and breather
Prices to be confirmed

The bike will be on display at the UK World Trial, Penrith on July 28th and 29th.