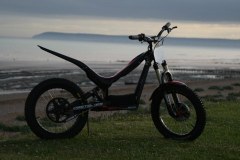 OSET Bikes have brought a revolutionary electric motorbike to market – the OSET 20.0". Three years in the making, the final product delivers on innovation, reliability, performance and fun! The machine is ideal for 7 – 12 year olds, but enormous fun for adults too and will retail at £1,749. Initial proto-types have proven themselves competitive, going head to head with petrol bikes and winning at British Championships.
Ian Smith, founder of OSET Bikes and designer of the 20.0" bike, said: "This bike bristles with innovation. We had to ensure the bike delivered in all areas and we refused to compromise our goals. During development we have designed and secured a range of proprietary parts that suit this machine and help make it a phenomenal bike! Likewise with other models the quiet nature of the bike means it can be ridden virtually anywhere – allowing for almost unrestricted practice which ultimately makes for better riders."
Detail
MOTOR: The OSET 20.0 motor is an all new OSET design using the very best internal components. Over 50 individual parts go into the motor, with most specially designed to meet performance and reliability needs. All areas have been considered including waterproofing, brush size, wire and bearing quality – right down to brush springs which have been specifically designed to meet OSET's standards.
CONTROLLER: OSET 20.0 controller is a work of art if you appreciate circuitry and electronic engineering! This is NOT a standard 'off the shelf' controller. It features a very stable high output MOSFET structure with ground up component and circuit board design. This controller will reliably output a huge 100 amps (OSET 12.5 & 16.0's have a 40 amp output). High output means high performance. This controller was designed in conjunction with the OSET motor, so they work perfectly in unison. The controller provides the ability to be set almost instantly for different riders and conditions. Novice riders can set for a slower speed and easier response. For muddy conditions, the controls allow the bike to be set to respond very smoothly. Months of testing have resulted in controls that allow the bike to respond for an expert or a novice, and anyone in between!
FRONT SUSPENSION: The OSET 20.0 front fork is a 100mm travel 'air' fork allowing an amazing level of adjustment. Firstly, the air 'spring' is infinitely adjustable with changes of pressure. In addition, a multi-position rebound dial allows a great range of rebound rate changes. This fork features an aluminium steerer and crown and magnesium lowers. The big 36mm stanchions provide great stiffness and rigidity, as does the 20mm through axle.
REAR SUSPENSION: The rear suspension is adjustable for rebound with a simple dial, as well as pre-load. Each OSET comes standard with a 650lb spring, with an optional 1000lb spring in the box for heavier riders. There are two lower shock positions available allowing additional alterations for travel and feel.
BRAKES: The OSET 20.0 features strong hydraulic brakes with reach adjustable levers. The front disc is protected by an OSET designed disc guard.
HUBS: The new OSET hub is unique and exclusive, with high quality sealed bearings and a 'bolt' system on both sides for the disc and the rear sprocket. The front hub uses a 20mm through axle for maximum strength and the most stable ride.
FOOT PEGS: The OSET 20.0 foot pegs are designed specifically for youth riders. These light weight alloy pegs feature rounded teeth and a solid platform. The mount system is unique in allowing two positions, so they can be ergonomically optimised for different size riders.
Ian added: "The OSET 20.0 clearly has a high pedigree. It is capable of teaching raw beginners to ride in a safe and controlled manner – in the back garden - with no noise, fumes, hot exhausts or fossil fuels. OSET Bikes allow riders to learn all the necessary skills needed to ride a motorcycle - and make it a clean, non-intimidating and FUN experience. With the OSET 20.0, the adjustability means the bike can be set for a 7 year old beginner one minute, and a 12 year old expert the next.
Specifications
Age Range - 7-12.
Rider ability - Novice to expert.
Wheelbase - 41.5" (1040mm).
Seat Height - 21.5" (570mm).
Ground Clearance - 10.5" (270mm).
Handlebar Height - 37" (920mm).
Weight with SLA batteries - 79lbs (33.8kg).
Weight no batteries - 49lbs (22.2kgs).
Motor - 1200w 48v OSET.
Controller - 100 Amp OSET, multi-adjustable.
Batteries (standard) - 48v 10ah AGM SLA.
Brakes - Hydraulic 160mm. Reach adjustable.
Suspension - Front telescopic 100mm travel. Adjustable rebound and damping. Rear spring, 100mm travel. Adjustable rebound and damping.
Tires - Maxxis 20" x 2.5" front & rear.