Gas Gas Motos are proud to announce the NEW 2013 PRO'RACING'
The bike was launched this week at the Milan Show.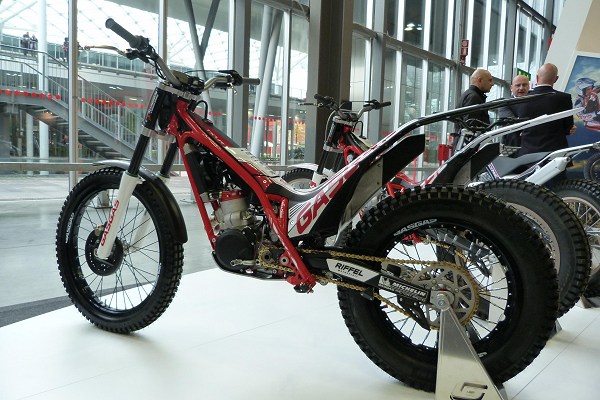 The RACING model will be available in December from all the best Trials Dealers.
The new 2013 PRO 'RACING' has a lot of detailed changes.
The obvious changes include the REIGER rear shock which is coupled with the same 'link1' from the 2012 Raga Replica. GG have been working with Reiger for a few years now and their rear shocks are now proven to be the best shocks available. The one fitted to the 'RACING' model can be adjusted 2 ways. The spring length can be adjusted (also different weight springs are available) and also the rebound can be adjusted.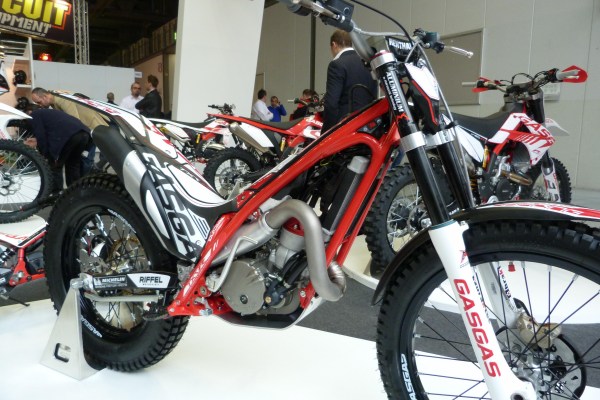 The well known KEIHIN carburetor is also fitted to only the 280 and 300 which provides more power from the mid rev range to the top end allowing the engine to really rev out cleanly. The new Hidria ignition on the 280 and 300 has a different cdi map to suit the Keihin carb. They also have a neat new cdi switch that can easily be switched whilst on the move.

A new feature on the RACING model is a new shaped 'plastic' fuel tank. It has less fuel over the electrical parts and more lower down in the engine department. The factory also claim a 200g saving in weight.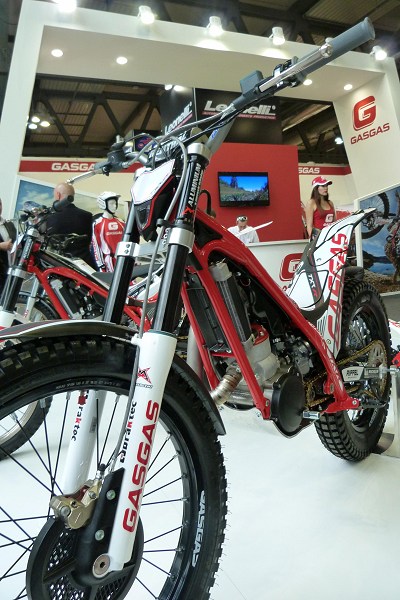 A new 140g lighter swinging-arm with some nice features also appears on the RACING model with a new chain tensioner which is better protected from the rocks and also some new clever designed rear wheel chain adjusters that fit inside the swinging arm.

Where the engine remains the same as the 'standard' model a new radiator and cylinder head makes for more efficient cooling. The new radiator is thinner and the new cylinder head still allows for the S3 inserts to be interchanged. There is a 190g saving with the new rad and head.

The front exhaust is titanium unlike the stainless one fitted on the standard model.

The footrests are the superb S3 'hardrock' items in steel.

Market leading RENTHAL fatbars and grips are also fitted.

STUNNING new RACING graphics finish off the superb 2013 PRO RACING….available soon!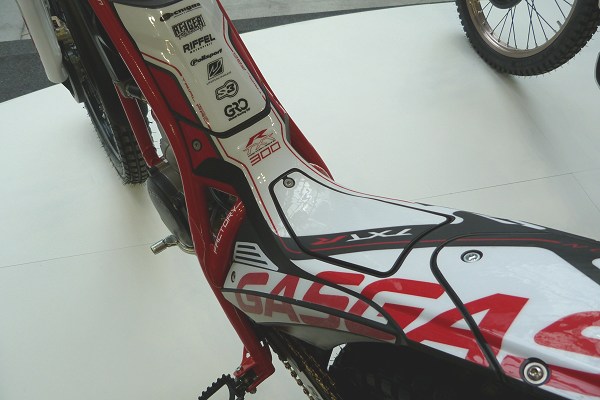 2013 PRORACING changes in summary;
New stunning RACING graphics

REIGER 2 way adjustable shock (rebound and spring)

New suspension 'link 1' (same as 2012 Raga)

KEIHIN carb (280 & 300 only)

New Hidra cdi on 280 & 300 mapped for Keihin/Racing with neat new switch

New plastic fuel tank (200g lighter)

New swinging arm (140g lighter)

New 'internal' chain adjusters

New chain tensioner

New radiator with more efficient cooling

New cylinder head (compatible with S3 inserts)

New titanium front pipe.

New S3 Hardrock steel footrests

RENTHAL fatbars

RENTHAL grips

Black morad rims
2013 PRO125RACING - £4899.99 inc vat
2013 PRO250RACING - £4999.99 inc vat
2013 PRO280RACING - £5149.99 inc vat
2013 PRO300RACING - £5299.99 inc vat